Freelance translators: benefits of having a dedicated work area
Translating might seem easy, but it can be a tedious thing to do especially when the document to be translated is specialized in a specific field. Translators may lose clients if they don't do their tasks seriously. Freelance translators need to do their job well so that the clients are happy with the result.
Freelance translators need a dedicated working area

Which is why, they need to keep things in order so that the tasks are done properly.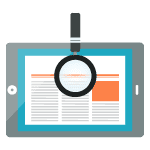 Dedicated working space

One thing translators may overlook, but is a very important thing they need to consider is having a dedicated work area. A work area in their house is needed so they can concentrate on their tasks so jobs can be done easier. If they are in a messy or crowded place, they might not be able to focus on their work and you will get distracted all the time. As freelance translators work from home, they need to make sure that where they work will make them feel like working in an office.
Having a dedicated working area will also make their mind feel like they are ready for work. It is not advisable that they work in bed because it tends to let their brain think that it is time for rest. While other people around them may think that their job is easier because freelancers can work from the conform of their home, in their pajamas, this is far from the truth.
Work space free from distractions
Freelance translators need to work on a designated table that is clutter-free so they can do their tasks properly. One benefit of having a dedicated work area is that when they use that, their mind and body will be conditioned that it is already time for work. In that way, although freelancers, they will also experience the feeling of being in an office as well.
Having a dedicated work area is like having their own office cubicle. It will signal them that it is time for work. It is convenient, especially for freelance translators because they have a choice on where they want to work. Another thing to keep in mind is that if the working area is too comfortable, it will take them more time to get their job done.
Why freelancing is a good idea?
Why has becoming a freelancer become such a norm at the global level? Freelancing has become an important aspect of career building; you can work from home and utilize your skills in an efficient way. The globalization with its constant progression has caused the accessibility to be as handy as the ease of methods has become a common aim.
Becoming a freelance translator has never been easier. The industrial world is constantly looking for opportunities to expand and grow. This notion has caused these industries to be proliferated into foreign countries and cause n affirmative shift in the translation industry. The online platform serves as an efficient way for freelance translators to achieve their goals and help in the provision of their experienced skills to clients who are in need of them. It serves as an interactive platform for both parties and in general creating a better perspective for translations across the world.
Not having a dedicated working area may put more stress on freelance translators as they can't delay deadlines, no matter if they're working for individual clients or for a translation agency.