Affidavit Translation Services
Everything You Need to Know About Getting an Affidavit Translation
A notarized translation of an official document from one language to another can be as valuable as the original, especially if you need it for legal purposes. It's important to get it done by someone qualified, however, so that you don't end up with unreliable or misleading information that could cause trouble later on. This article will help you get started by explaining what an affidavit translation is and the process you should follow to make sure it gets done correctly.
What is an Affidavit?
If you have troubles with immigration officials, you will likely be asked to sign documents written in another language. While a person without proper legal credentials may be able to help you fill out these forms and explain them, if you are concerned about your rights and responsibilities, it is often advisable to seek help from a qualified translator or agency. Doing so is simple; just contact one of our legal experts. An affidavit translation is a formal statement sworn under oath. It can also refer to a sworn translation of an official document like a marriage certificate. An affidavit must always be prepared by someone who has the legal authority (such as notary public) or by those who are licensed translators or interpreters (like those on staff at Best Translations). Anyone else cannot legally prepare an affidavit, even if they speak both languages involved in the translation! Only properly trained professionals can provide accurate translations that meet local laws and regulations regarding sworn statements.
An affidavit is something whose definition often confuses people. It is even more confusing for people to learn that they may have already signed an affidavit or two. That's because a lot of government forms carry the same power as an affidavit, which means if you lie on them, you will be subjected to perjury. But no one should lie on a government form whether or not it will result in perjury.
Affidavit of Translation
In simple terms, an affidavit of translation is a written statement equivalent to a verbal statement given under oath. People sign the affidavit in front of an authority figure who is eligible to witness such an oath. Once a person signs an affidavit, they have agreed to everything that is written on the paper. And if it turns out that something on the document wasn't the truth, they will be subjected to perjury. This is why people have to be very careful when signing an affidavit, and must read it to make sure it is the absolute truth before signing it.
When is an Affidavit Used?
Affidavits have a lot of different types and consequently, many uses. Its basic use is in the court where it is presented as evidence. At times when a witness is unable to attend a court session, the lawyer can present their statement in the form of an affidavit and it will be considered valid by the judge and the jury. It is also used in court in non-criminal cases. In family courts, it is used in heirship and marriage cases. For instance, if a person wishes to get married and need to prove they aren't married already, they can do that with the help of an affidavit. Sometimes, it is also used to prove that a person is married. This type of affidavit is mainly used for foreign visa when a couple can't locate their marriage certificate.
When someone passes away without leaving behind a will, their rightful heir can present the court with an affidavit claiming their right to inherit their loved ones' property. Other types of affidavits relate to financial issues, name change, identity theft, and real estate declarations.
The Translation of an Affidavit:
The world may not have gotten bigger than it was but with time, the humans have spread out and claimed different parts of lands. Today, there is hardly anyone who can say that all their loved ones live near them. Friends and family travel to different places and settle down there but that doesn't mean they don't matter to you anymore. You will always be connected to family no matter where they are. However, living in countries with different languages can sometimes be a problem. If you have inherited something in another country, you can't present an affidavit in your country's official language. The court will not accept it when it is not in their language. They won't even be able to understand it and as a result will not consider your request.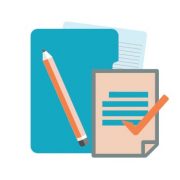 Another similar situation can arise when you are a witness in a foreign country's case but you don't know their language. You can't refuse to give your statement and let injustice win. But you can't give a statement in your language either. The jury that won't be able to understand you, won't give your statement any importance. What you do need in such cases is the translation of the affidavit. The translation can convey the message of the original document as it is and can be used in any court of law easily. You don't even have to attend the court session if you can send the translation of your affidavit that contains your statement in detail.
Why is a Certification Needed?
Every student has had to get their report card signed from their parents. The signature proves to the teachers that parents are aware of the performance of their child. A student cannot simply tell their teacher that they showed the report card to their parents; they must present proof too. This is what makes us realize quite early in life that a document becomes important when it is signed by the relevant people. Even the report card has the signature of teachers and the seal of the school. This isn't something that is limited to school life. Even in professional life, you will need a certificate to certify your documents.
Difference Between an Affidavit and a Notarized Document?
Legal papers and the rules relating to them can be pretty confusing. Those who are not familiar with such terms as notary and affidavit have a hard time understanding the concepts behind them. And once it is explained to people what affidavits and notarized papers are, they wonder what's the difference, if any, between the two. There are plenty of differences between the two types of legal papers. For instance, you can send a document to a notary public to certify, but an affidavit is more like your own statement that you have to write and sign in front of an official. However, the two types can often be used interchangeably. There are many instances in which contracts and legal documents such as wills must be notarized before submitting them to a government body.
How to Notarize the Affidavit?
For notaries! Since you're using your notary stamp, you'll want to make sure it is up-to-date and has not expired. Since your office is not a federal government agency, though, there are no rules requiring you to use official forms or follow a certain protocol when processing documents. If you do choose to process documents through your office, however, here are some helpful tips:
Affidavits can be translated from English into another language by any translator. Translators should notarize their translation with their own state-issued notary stamp in order for that document to be accepted by a federal government agency as evidence of its originality. If you're looking for a quick turnaround time, it is best to hire someone who works in your area or at least nearby so you don't have to pay extra shipping fees and wait longer than necessary. To find someone close by, you can use Google Maps or ask friends and family members if they know anyone who could help out. When you receive your documents back from your translator, make sure they are signed and dated before presenting them to a government agency. This will ensure quick turnaround times when filing documents.
How Much Does it Cost?
Pricing for affidavit translation varies. A few key things that can change your cost include: who is requesting it, what kind of document you need to be translated, how many words are in your document, and where you are located. Many businesses charge a flat fee per page or offer bulk discounts when ordering multiple documents at once. Additionally, some people may choose not to pay extra for certified translations but if a translation is being used in legal or immigration matters it is obligatory. Finally, different companies will have different requirements as far as which original documents must be submitted with your request. If you do not have access to original copies of these required documents then you will likely be charged more for them by any company that does provide them. For example, most companies require that all names and dates be written out in full on official government-issued forms rather than just signing off on a digital copy.
Where Do I Get a Certified Translator?
There are many places to look for a certified translator and you should try checking with a number of them. Usually, you'll want someone who is very familiar with your industry, so it may be a good idea to speak with a number of regular customers that use these services on a regular basis. It's also important that they can guarantee you an accurate representation and deliver these services at competitive prices. If you don't know where to start, ask your regular customer base for some recommendations or search online for translators in your area. Remember, price isn't always indicative of quality. The most important thing is to find a professional translator who understands your needs and has experience translating documents from your industry. After all, you wouldn't hire a dentist to do electrical work!
What if They Don't Accept my Language?
Different countries, regions, and even cities may have different requirements for affidavit translations. Whether you are a global corporation operating in a different country or simply trying to secure financial aid in your hometown city, we're here to help. Our outstanding service will make it simple for you no matter where you are. Don't settle for subpar work when there is a better option available! Contact us today!
When is the Translation of an Affidavit Needed?
Whenever a legally binding document has to be shown to foreign authorities, it has to be translated first. Whether it has to be presented in a court or to the public records office, the paper must go through the hands of a linguistic expert. Sometimes, the will of a person has to be presented in their home country, or the contract between two companies has to be presented in an international court. In either case, only an accurate translation of the affidavit makes it possible for authorities to do their jobs. However, when a legal document has to be translated, a lot of requirements get added to the mix. The complete and accurate translation of the document becomes absolutely necessary because any missing part of inaccuracy can result in legal problems.
Who Can Translate an Affidavit?
There are a lot of branches of the language industry. Before making a decision, people must know exactly what kind of help they need. If they know what kind of document they need to be translated, they will be able to go to the right expert. But along with competence in translating the document, the expert must be familiar with the legal jargon and the cultural context. If they don't know anything about the legal system and the terms used in courts, they will not be able to do justice to the records. If there are business papers in question, then the expert must be familiar with everything that happens in the corporate world. They should have enough knowledge of the field to translate the papers with accuracy.
Who to Choose for the Translation?
People always have to choose between freelancers and agencies whenever they are in need of linguistic assistance. But it can be a difficult call if they are not familiar with the pros and cons of both choices. However, the simplest answer is that by choosing a freelancer, you won't be able to protect your sensitive data. Agencies, on the other hand, can offer you a guarantee of confidentiality and authenticity by signing an NDA. They will become legally responsible for your data and put safety measures in place to protect it.
Another reason why companies are much better than independent translators is the quality of the work. You can be certain about the kind of work they provide by reading reviews on their website. You can also figure it out by seeing the certificates they have gotten over the years and the businesses they work with. It is also worth mentioning that agencies have plenty of experts on their team so they can help you with a number of different issues. You won't have to find another expert every time you encounter a new linguistic problem. They will be able to assist you with all kinds of issues. You will also get discounts and special deals if you decide to sign a contract with an agency.
You can get certificates and transcripts and records translated under one roof if you pick an agency. You will have the option to get physical records of your translation if you want. But if you only want an electronic version, you can get it within 24 hours of booking your order. Rarely any freelancer completes their project in such a short amount of time.
You can reach out for assistance today. Bring your copy of the affidavit or declaration, choose the source and target language, pay your bill, and wait for an expert to finish working on your project. Once they are done, they will send the file to you for review. If you are not satisfied with it or want any changes, you can ask for it straight away, and they will help you out. But if the document is complete and accurate, you can leave a review about the service and take the translation to the authorities.
There is, however, one thing that you should keep in mind when getting the translation of a document of high importance. It has to be done by someone who has had prior experience with sensitive information and will not misuse your documents for ulterior motives. Find a reliable agency for your translation needs and you and your data will remain safe.