Financial Translation Services
Universal Translations Services has been working in the translation industry for the last 16 years with thousands of satisfied clients. Our financial translation services are available for every business task as the expert translators working at our company have technical skills that are considered to be the best in the industry. We deliver affordable yet accurate translation services for a wide range of documentations related to every aspect of the financial sector, and our customers can get in touch with as at any time through our live-chat feature, which is available 24/7.
Financial translations: Accurate and reliable
Financial translations are often required by financial institutions and international corporations including banks, insurance companies and accounting firms. As they are meant to be perfect and accurate by all means, choosing a reliable translation company can yield great outcomes. In the business world, companies have to deal with clients and customers from all over the globe for which accuracy of relevant documents matters a lot. This is only possible if your company is working with an experienced and professional translation provider which can handle complex matters easily.
We have employed highly trained and skilled translators who have a vast experience related to the financial sector. As we have a tough selection procedure to sort out the best translators, every piece of work is delivered with best accuracy. Furthermore, three translators are assigned over each project so that there is no room left for errors, mistakes or omissions. Once the project has been completed, it is transferred to the editing and proofreading specialists who authenticate and inspect the translated document thoroughly.
Due to years of experience and hard work, our financial translators are always ready to handle every complex task and create translations with high accuracy. As we have an efficient project management system at our company, all of the translators are connected and discuss translation details regularly. After the order has been confirmed online, our project managers reach the customers immediately and gather relevant data as well. As financial documents need to be safe and secure, our team members make sure no information is leaked or misused throughout the project.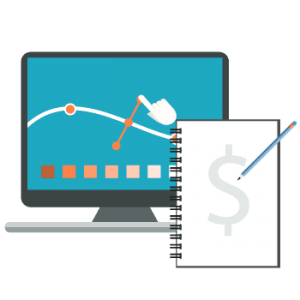 Looking to translate financial documents? Get in touch with us!
Accurate financial translation services
We have a predefined team which is comprised of translators having complete grip over finance and business terminologies. With the help of our own unique translation tools, our translators are able to use dedicated translation memories and interactive glossaries to properly translate financial documents with 100 percent accuracy. As we have permanently staff, each of the tasks done at our office is under strict supervision so that there is no room for error left. Lastly, our project managers make sure the supplied documents are kept strictly confidential so that it will never be misused.

Expert translators
Universal Translation Services has employed specially trained financial translators who are versed in translating financial documents and are well aware about the linguistic and cultural aspects. By using the appropriate terminology, our expert translators make sure that the translation is not only accurate but is also makes sense and is simple for the readers to comprehend. Financial translations are meant to be clear and appropriate, and our project managers make sure every aspect and requirement of the project is clear to the linguists which are therefore able to deliver the best translations.
Low prices
Unlike other translation companies available online, we have a predefined rate list. Regardless of the complexity of any document or the language to be translated into, all of the financial translation services are offered at fixed translation rates. Furthermore, each of our translation solutions is available at lower rates for which our clients are always ensured about quality and accuracy. Moreover, we also understand the time and budget constraints of clients demanding translations. By over-viewing every aspect, we manage work accordingly and always do our best to meet client expectations.
Categories of financial translation offered
Universal Translations Services provides authentic, reliable and accurate financial translation services which allows organizations to simplify communication with local marketplaces worldwide. Most of the financial translators working in our company are economists, accountants and with careers in the financial sector, which allows them to understand business terminology and handle complex documents with ease. Starting from annual reports, bank statements, economic reports and insurance documents, companies can choose from more than 120 languages for financial translations.
Whether you need fast turnaround or get translated any sort of financial document, sales brochures or other important text related to business communications, we are always ready to deliver accurate results ahead of deadline. Apart from the financial sector, you can talk with our project managers and get support regarding all sorts of translations as well.
With the growing business networks, companies need to communicate with clients and customers from different countries. In order to make your services understandable, it is important that your business documents are accurately translated. This is only possible if the translator is able to follow the language writing style which makes it easier to capture the client's attention. Furthermore, we also specialize in the translation of annual and financial reports. As we understand the time constraint issues of our clients, each of the annual reports translated is given high priority and delivered ahead of schedule.
Coming over to investment translations, we have a vast experience in serving world finest financial firms and companies. Our financial linguists are specialized in handling complex documents and assignments related to investment and finance. From start to finish, we can manage your entire content and translate in almost any language without compromising on accuracy.
Why should you count on us?
Universal Translation Services offers a wide range of translation solutions for its clients. As we have discussed and reviewed the benefits of getting financial translation services, it is advised that you must choose a translation company after proper research and analysis. We have 16 years of work experience and we are serving clients and organizations from all over the world.
Covering more than 120 languages, our expert translators are well aware about technical aspects of every financial document. Whether you wish to translate annual reports or any other business-related documents, working with us will surely deliver best satisfaction.
Another important factor to consider is using the same translation provider for all your translation needs, which will translate in lower costs and consistency across translations. We are an all-in-one translation agency which provides accurate translations for any field, from business translations to translating websites or coming up with an effective globalization strategy, we can help you with high quality translations at low rates.
Experienced financial translators
Despite the fact that every translation project has its own complications and sensitivity associated with it, financial translations are something that could never be messed up. Let's admit, all our efforts sum up to one thing alone, steady finances!
This is why, we want you to entrust us with all your financial translation services. No matter if it's your bank statement, a transaction receipt, your annual report or any important deed, our financial translation experts will take care of all. They have been working in close cooperation with the financial departments of different companies and they understand what's the right way to translate the original document into the required one while keeping all the information as it should be.
We guarantee you that we won't allow room for any single error. And even then if you have any special requirement or instruction that you want to move forward, we are more than available to accommodate all your preferences. If you are in need of reliable financial translation services, you can get in touch with us through call, email or just by hitting the live chat option on our website. You can also get a quote in just 5 minutes through our instant quote service.