Desktop Publishing Services - DTP Services
Desktop Publishing Services
Multilingual desktop publishing has become a much sought after tool of today. However, desktop publishing itself can be such a troublesome task. More often than not the wrong platform and software options are used and it makes things a lot harder for DTP, however, even when someone uses the correct software, DTP can be extremely tough still. Universal Translation Services can offer some of the best desktop publishing services for documentation after translation has been completed.
PDF files are some of the simplest formats in today's world and most will use PDF to send materials online especially since it's very easy to use. However, PDF isn't always the best file format to consider when it comes to getting translation or DTP services done. In most cases, professional translators hate dealing with PDF formats when clients send them through because they present a host of problems.
The biggest problems remain with editing and formatting. There are many PDF and OCR conversion tools translators use and they are full of little formatting tricks that make the process a lot easier. The conversion tools can ensure the scanned Word document is the exact same as the PDF file but sometimes, editing is not easy. For example, the PDF files can almost 'fall apart' when the translator tries to expand the text to start the translation process making it almost impossible to get proper translation done without taking far too long.
This is why we really have to ask for original format files. It does make it a great deal easier for the translator and it helps to speed up the process too. Suitable formats for you to choose would be Indesign and Pagemaker; these are some of the best formats as they convert very easily with CAT tools. Translators often find it a lot less complicated to deal with the correct formats and you have to remember, you want accurate translation and using the right formats reduces mistakes.
When Are DTP Services Needed?
Once the translation has been completed, the translated text needs to be corrected in terms of length. In most cases, the English text is much longer than the original foreign-language text and it means desktop publishing services must come into effect. What desktop publishing does is to format the text and graphics, if any, and match to the original document.
We here at Universal Translation Services will use the right DTP services to correct all documents after translation has been completed. However, before we offer this service, we do ensure the client has received a special DTP price and are happy before proceeding.
At Universal Translation Service, we review each page of translation ensuring there are no formatting issues and compare to original materials.
What We Look For
Differences Between Fonts From The Original Source Material And Translated Material
Special Characters Used
Culturally Appropriate Style
 Longer Text In A Second Language Than To That In The English Language
Different Hyphenation Rules For Each Language
Different Composition Conventions
We Work With
Universal Translation Services has the ability to provide DTP services for files in both Macintosh and Windows platforms.  We are also able to handle files ranging across a variety of formats including:
Microsoft Office (PowerPoint, Excel, Publisher, Word)
Adobe (Frame-Maker, Photoshop)
Quark Xpress
Page-Maker
Acrobat
Illustrator
In-Design
Desktop publishing meaning
Are you wondering exactly what does desktop publishing mean? Universal Translation Services is here to explain. Desktop publishing is basically publishing a content that has been developed on a regular computer with the help of modern software that is specially designed to write the content in the way mass publishing format for books and newspaper are developed. Desktop publishing is the modern method of publishing books, newspapers, mass pamphlets and all other content that is sent to publishing houses.
Desktop publishing is most commonly done with software called InDesign. InDesign is a program like Microsoft Word and the program that is used to design various kinds of content that are eventually sent to print, are all designed on the program. But of course, desktop publishing is an ever-growing market that is seeing new development in desktop publishing software.
Where is desktop publishing used?
Desktop publishing is now even used by major newspapers as they prefer modern modes of publications over antiquated ones. It is used by advertisement agencies for developing their written content for mass presentation in the form of flyers, newspaper ads and pamphlets among other forms of print medium. It is mainly used by all the information sharing groups and institutions that require a way to design and develop their content for mass consumption.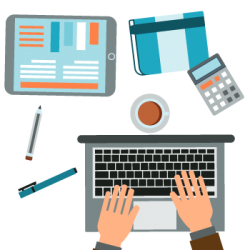 Desktop publishing advantages
The main and most simple of desktop publishing advantages is its modernity. There are many ways in which desktop publishing is better than its older counterpart. A few of these reasons are as follows;
Computerized: Because it is software that is developed on a computer, it gives the editing team the freedom to use all the modern tools of graphics and fonts. The work is much reduced and the finished content is much better than its older counterparts.
Time saving: Desktop publishing is much more time saving once you get a hang of it. Universal Translation Services says this is because the content can be saved, records are kept and changing and restyling the content is a matter of a couple of clicks and not a long-winded dabbling with ink and paper.
Internet Connection: The internet connection is most certainly a great improvement. When you are developing an information distribution system, it is best if it is connected with the largest information generator in the history of humanity. This makes the use of desktop publishing the best way because copying and rewriting information or really just any kind of improvement is a much easier task.
The desktop publishing advantages make it the future of the publishing industry, not only the present. It is the best way to receive and distribute information and the presentation that you can get in this manner cannot be matched by any other publication device.