Translation Services in Miami
If you need affordable and high-quality translation services in Miami, look no further: our translation office in Miami is always open, and we can provide translation for business just as easily as we provide translation for immigration. Accurate translation doesn't have to be expensive, and with us, it isn't; in fact, we sport some of the lowest rates you can find in the US!
Living in commercial hubs is not easy, but what's even more problematic is finding the best services when you need them in emergencies. We genuinely comprehend all of your requirements, no matter how complicated or urgent they are.
Our commitment to serving you with convenience and accessibility can be asserted from our availability in Miami. Now you don't have to waste your precious time looking for a translation company in your surrounding areas. With our expertise, you have to come to us, let us know what kind of personal documents, academic records, certificates, or text you need to get processed, and we'll make sure that you get everything done without any problem.
About Miami

Miami, located in Florida along the southeastern coast, has to be the most beautiful area around the coast, considering its gorgeous landscape. The extraordinary beach sky covering up the great islands with camping by the fire at night and the lavish hotels and cultural shops make an epic sight. Being in the top 10 list of the most populated cities in the US, it is also an important business hub.
Miami is the most important city in the southeastern part of Florida. There is a lot of influence from Cuba visible by the cigars shops and cafés in Little Havana. Biscayne Bay is the Miami Beach part with the beautiful barrier islands surrounded by azure water. You will also find the famous area, South Beach, with its colorful Art Deco buildings, white sand, beautiful hotels, and trendy nightlife.
Being the eighth-most populated city in the US, Miami is a hub for finance, e-commerce, business activity, emerging real estate markets, rich cultural experience, and political engagement. But a place as diverse as Miami is, it's not just a place for opportunity. It is also a place where people from different origins communicate and engage in business as well. At UTS, we know what help will be required, and that is why we established our office in Downtown Miami, the heart of the city.
The reason behind our translation office in Miami is indeed the provision of linguistic help according to the diverse nature of business here. Still, we also want to make sure that we listen to what our clients have to say, their concerns, what they want to know before acquiring translation services in Miami.
Our translation office in Downtown Miami
The Central Business District called CBD is better known as Miami downtown. This area, where most historical buildings are located in Miami and where the main street is with all the shops called Flagler street, is where you will also find the local county state and federal government offices.
The reason behind opening a translation office in Miami is due to the very purpose of Miami being a large area for the expansion and settlement of American businesses. There are many locals and foreign businessmen engaged in business in the area. As a result, there is a stringent need for accurate communication which demands the use of a common language. For this very purpose, Universal Translation Services, expanding its services to the world, opened an office in downtown Miami.
Universal Translation Services is expanding rapidly because we are growing very fast. Our new office is based in Downtown Miami where we offer high-quality translations 24 hours a day and 7 days a week. The main advantage of our company is that we have offices in Europe and the United States. Why? Most of our French translators will be selected from Europe when it comes to translations into European languages including French, Polish, Italian, Dutch, Finnish, Danish, and Portuguese. This way we can ensure the quality of our translations because we use French native translators who are living in European countries.
Drop by our translation office in Miami:
Universal Translation Services
80 S.W. 8th Street, Suite 2000, Miami, FL, 33130
Or call us: (305) 447-7110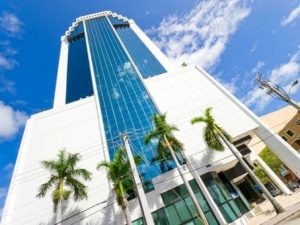 Document translation services

Our office in Miami, FL provides accurate and high-quality translations for any documents, in any field (personal, business, legal, technical, medical documents). It doesn't matter if you have just a small document to translate or a whole book, we accept any kind of order no matter its size. We provided the most trusted translations to our clients. Your final translation will sure to hire our services again. Check out our customer reviews before you could place the order.
Certified translator in Miami FL

If you're dealing with USCIS you need certified translation services. We can do that for you, at the lowest rates you'll find in Florida:
only $20 per page ( Please note: the price is valid for pages having up to 200 words. If there are more words on the page, a price of $0.12 per word will be charged instead.) Still worrying about the cost estimates, just contact pros to get the most affordable prices.
Notarized translation services

If you need to have your translation notarized, we can do that too. Although USCIS no longer requires notarized translation, you will still need it for your diplomas and academic papers if you are a foreigner wanting to study in the United States.
Some more reasons to visit our Miami office
Our team works in different shifts to cover the 24 hours/7 days a week translation services in Miami. We have a special team for the weekend too to offer the best available continuous service. Our project managers and assistant teams for our translators are available, as well as our dedicated DTP team for any special request that you may have.
Translation Services in Miami

We are not just a spot on a map. Our Miami translation office is really there, accepting visitors at any time. Get in touch for a free quote.
Call us whenever you need to

We are working in 3 shifts and we are available when everyone is sleeping as well. Have questions or need a quote? Call us at any time at (305) 447-7110, a project manager will always be there for you!
Miami Translation Office, Open 24/7

Our Miami translation office is open 24 hours a day, 7 days a week. Feel free to drop by with your documents, we'll give you a free quote with a deadline right on the spot!
All-in-one translation agency
Our special team at our Miami office has been briefed and trained on how to guide the clients when they want translation services that contain information regarding which they could be concerned. If you are residing in Miami and require help with translation, certification, notarization, make sure you come to us.
Our office provides an easy way to have your translation done fast and at an affordable price. Whenever you need to have something translated fast come visit our office where you will be able to drop in your documents, talk to us directly about your needs and get a free quote. After the translation is done you can pick it up from the office if you need hard copies, or you can have it sent to you by email or mail.
Universal Translation Services provides services that are interrelated, for instance, if a client wants to translate a birth certificate in another language and the birth certificate also requires to be notarized by the authorities and the client is clueless on where they have to go, we offer both the translation and notarization of the desired document from the concerned offices.
Or a medical certificate that needs to be translated and the translation has to be certified then we can save the client from trouble by asking some simple questions and by providing them certified translations. We are even more specific when it comes to business documentation translation; we are in touch with the top business specialists who assist us throughout our project analysis and the completion of the translation process. We are known for our quality and we aspire to maintain our reputation, regardless of the place where we are providing our services.
Highly accurate services
Miami has a high demand for translations given its varied economy and increasing population. With a more global presence in Miami's marketing life, it is necessary to keep up-to-date in translating all the required documents for the reason of remaining competitive. Our translators know all clients need a high level of accuracy and efficiency, and we are ready to provide that kind of service to them. Translating all sorts of documents, software, and websites, from and into any language, is what we do.
At UTS, we know that every client is different and requires unique services from our translation agency. Tailoring our procedure as needed for your unique project is our guarantee. Today, by working exclusively using efficient channels such as the internet, and phone, we offer the same level of service to every client regardless of the project size.
Our expert team of professional translators has been selected after a precise selection process, and a vast majority of our interpreters and translators consist of native speakers of their respective languages and hold appropriate certifications and degrees in translation and linguistics. Even more, they are specialized in their fields, and we will never assign a medical translator to translate your legal documents. During the early stages in our translation steps, translators and proofreaders are assigned on a project based on strict criteria and the 2 most important ones are:
They are only allowed to translate into their native language
They need to be specialized in the field of expertise of your document
If you need a translation in Miami, come visit us at our office or order online. You'll get accurate translations at some of the lowest prices in the Miami area.
Professional document translation services in Miami
Situated in the heart of the city, we are a leading company providing professional translation services in Miami. People and businesses alike come to us every day not just because we offer a diversified translation range for every field with the same enthusiasm and determination, but also because we really care about our clients and their needs. We are committed to providing the service by the requirements of any given project. We understand that every translation is different and for each, the expertise required is totally different too. This is why our translator team on board is the best in Miami, with highly skilled and professional translators giving their best to help you.
When you consider the side of document translation, you will be faced with several different documents, each with its own requirements. Furthermore, document translation services in Miami will have to cope with those requirements and our translators can do that. We can translate just about anything, from documents to websites for businesses and certified or notarized translation for individuals dealing with USCIS, and we always keep requirements in mind and translate accordingly.

Available at any time
Asking a quote from our project managers is easy but even when you are not sure what you want and how you can explain it to them, we can use our simple questionnaires to make an easy way for such clients. People from all around the world come to the Miami Port and not all of them are there to enjoy the picturesque beauty of Miami, most of them have other matters such as jobs, businesses, educations, legalities, etc, so we built a team in Miami, too much important of a place to ignore.
In a hurry? No time to visit our office? No problem. You can use our website as a great starting point in ordering your translation. Not sure what you need? Just hit the live-chart button and a project manager will reply to all your questions and guide you. While our office in Miami is open during business hours, we are working 24/7 behind the scenes, and you can get in touch with us online at any time. Even more, you can order your translation on our website, let us work on it, and then have it sent to you by e-mail, or you could come to the office to pick it up.
Have special needs? Need to have something translated as fast as possible? We can guide you in finding out what you need. We've done translations for just about any purpose over the years so we know what you need and where. Just get in touch and find out how easy you can to have your questions answered by our translation office in Miami.
We are also offering our affiliate program in Miami. Lawyers, recruiters, travel agents, or tourist guides can avail of our offers through our offices and earn decent side earnings.
If you need translation services in Miami, then you must visit our office in Downtown Miami. You can make referrals to your friends, acquaintances and if you work at an office where people talk in languages other than English and they require help with documents or websites or any kind of linguistic help, you can recommend our services.
Cheap certified translation in Miami
Although English is the official and local language of Miami, due to being a multi-cultural city, numerous other languages are spoken here and one of the main reasons for that is immigration. If you're living in Miami you should speak both English and Spanish. Other common languages spoken in the area are German, Swedish, and French, along with over 70 others.
All those people have to deal with USCIS and as such, they will need a cheap certified translation in Miami. This is the main reason why we have a translation office in Downtown Miami where we can help all those people with highly accurate translations for any personal document, including birth and marriage certificates, diplomas, criminal records, divorce decrees, and any other documents needing an official translation.
We also offer some of the lowest prices you can find, not only for an official translation, but also for general translation needed in business, including highly technical documents, and we can translate from and into 120 languages. If you need fast and cheap translators in Miami visit our office or get in touch online at any time.
Translation Company in Miami
One mention of Miami and many people find themselves transported to the beautiful beaches and breathtaking sunsets of the city. The fans of TV shows start thinking about CSI: Miami and the crime-fighting team that kept the killers in check. But there are many interesting things about the place other than its beaches and the fact that it had its own CSI spin-off. Sure, many turn to the city when they want to enjoy the blissful summer at sandy beaches with lemonades in their hands but you can get a lot more than tan from the place. A lot of big companies have their offices there and offer countless opportunities to fresh graduates.
Sometimes, however, getting a job there would mean obtaining a translation of your documents. If you are in search of a reliable translation company in Miami then you don't have to look any further. Our qualified translators will be glad to help you.
Translation Companies in Florida
Our minds rarely work rationally. We can love our friends even if they are not the kindest people we know. A place may not have the best living conditions but we might want to move there because it is exactly how we want it to be. When it comes to our liking and feelings, logic doesn't play any role. We opt for whatever our hearts desire. Everyone has heard of Florida thanks to the internet. It has been a subject of memes for quite some time now. But those scary incidents aren't the only thing the state has to offer.
There are plenty of things in Florida for those who want to explore them. If you need to get your documents translated and are looking for translation companies in Florida then you won't find someone as reliable as us because we charge the lowest possible rates and have the most qualified translators on our team.
There are some famous things which are known all over the world. Even if someone hasn't been to China, they know that it has the Great Wall. In the same way, Miami beach is known everywhere in the world for being so beautiful. It is many people's first choice on their vacation list. But the city is also known for its diversity. There is a huge Spanish-speaking community there that requires linguistic assistance from time to time.
Sadly, Spanish still isn't recognized in the constitution of the US. As a result, the people of Miami require help with their documents. They can get assistance from a translation agency in Miami. It is the best place for a language service provider as most of the time; people require help with linguistic issues. A reliable agency is very valuable for the people of the city as it can help them get over the language barrier easily.