Are you thinking about studying abroad for your postgraduate degree? Get in line! All of us have always daydreamed about going to an international campus for a master's and getting an international degree. But now you are thinking seriously and want to know more!
Your degree was in the National language!
You are from Central Asia or the Middle East or virtually anywhere in Europe according to our guess. Many countries all around the world tend to give out degrees in their national language. These individuals find it complicated to send their credentials for evaluation to an international institution because their academic transcripts and college transcripts are not in English and they will require degree translation.
Universal Translation Services has made this post to help all of you!
How do international academic institutions evaluate their prospective foreign students?!
This is, in fact, a simple process. They bring all of their international applications to a similar level by putting various regulations for the submissions of documents. These regulations vary as follows;
Evaluation Examination:
Most international universities have made IELTS, TOEFL, GRE, and other similar examinations compulsory for all the applicants. This is to make sure that all the applicants gain results in the same examination and are evaluated on an equal footing.
Degree Evaluation:
Other institutions have placed degree evaluation procedures that are to be followed by the applicant if they are to apply to the institution. They may be required to submit their degree to an evaluation agency in their region that will garner results for the institution to review.
These are the two main methods that are usually considered to evaluate a foreign student's academic record. But of course, you have to present your documents for evaluation in English.
How to get your documents translated into English?
Considering there are considering regulations to be kept in mind to get your documents translated into English. They are as follows:
Certified Translation:
The translation has to come with a certificate of authentication issued by the translator that states that the translator takes responsibility for the translation and should be contacted for any questions regarding the translation. The translator will also provide his contact details and his credentials for evaluation.
Translators' Credentials:
The institution will also carefully review the credentials of the translator while they review the translation. The translator has to be certified by the American Translator's Association and should be a certified translator. Otherwise, the translation will be dubious in the eyes of the reviewers.
Attestation:
If you do not have your academic record in a foreign language, then you will take your academic record to the regional embassy of your target country of education and get the documents attested by the agency.
These are the basic steps to be followed.
What is a degree in modern languages?

A lot of universities are offering BA or bachelors in modern languages nowadays. The students of such a degree study the linguistic features of contemporary languages. Once they have completed their degree, they will have a bachelor's in modern languages, but they can decide to study further too and get an MA in the same subject.

Can you get a degree in a language?

Yes, you definitely can get a degree in a language. Schools nowadays are offering both bachelors and majors in languages. People can pick the language of their choice and they will also get to learn about the relevant culture with it. But the degree will only be named after the language.

What is a degree in linguistics?

Linguistics focuses on the scientific study of languages. A degree in linguistics can be both BA and MA. It allows students to develop a deeper understanding of languages and their evolutionary process. It also makes it possible for students to understand how languages are used by humans in their daily lives. Linguistics also involves other social sciences along the way.

Are language degrees worth it?

Language degrees are worth it. Someone with a language degree can get a teaching job in a foreign country. They can also work for the government and help with the compilation of course books. Some of them also work as translators and interpreters. They bridge the linguistic gap between the speakers of different languages. Although it depends on what type of translation you want to choose, your language degree can even help you get academic translation jobs.
The Documents
The documents that will be translated are also of great significance. A simple rule is that all the academic credentials until high school are significant. But Universal Translation Services will shortlist the major expected documents for your convenience; Our academic translation fees are the lowest. But this doesn't mean our academic language experts are not the best. They completely understand each and every aspect of translation and their academic translation techniques are professionally tried and tested.
Academic Transcripts:
The academic transcript of your undergraduate program is of the utmost significance. This will decide your case so you should make sure that you get it translated first and foremost. Always go with an ATA-Certified or Accredited translation as the universities only accept certified translations.
Academic Degree:
Your academic degree will also need to be translated for you to present degree translation to the international educational institutions.
College Transcripts:
Your high school certificate will also be translated for the international institution. That is why; you should get that translated as well.
Relevant Certifications:
You should get all the diplomas, short courses, and other academic documents, whether the internship or a real job after your graduation, translated. The more evidence of competence you can provide, the better your chances will be of getting selected.
Transcript Evaluation:
There are simple rules and procedures that institutions have placed to evaluate the transcripts that are sent their way from all over the world;
Program Evaluation
The courses that your program has covered and how they set into their educational expectations for students.
Quality Of Examination

The way your research papers, your examination, and a similar process of evaluation were conducted in undergraduate school is also of significance.
Post-Graduation Evaluation
We consider this is to be a considerable factor. You are best served with a good professional experience after your graduation. If you worked in an office that is great, but even if you were a part of an initiative, volunteering, or just wrote poetry for fun; you should find a way of adding all of that to your application in a manner. This will help you in getting the reviewers to see you as a person of interest.
Our Advice:
Postgraduate applications are like presenting yourself for evaluation. It is a deeply personal experience and should be treated as such. You should show your interest in working in the field that you are applying for and all the small initiatives that you have shown in relevance to that field. This will make you a stronger candidate of interest. Your subject area languages should be major languages or at least translated in one so that it can have the right impact.
The way of deciding on prospective students is that they review every application independently and try to find their story in the academic transcripts, their degree translations, and their college transcripts. You should build your case by making sure that your credentials tell a story of eager creativity and competence.
Scholarships:
Every achievement in life, no matter how big or small, deserves to be celebrated. However, some of them bring immense happiness to your parents. They are the achievements that make everyone proud of you, which is why they become your favorite too. Getting a scholarship to study in the institute of your choice is one such achievement. Not everyone can afford to study at the school of their choice. Some courses are only offered by a few institutes in the world. As a result, the students who want to study them has to apply to those institutes. However, if they cannot afford the tuition fee, they will have to give up on their dreams. Fortunately for such students, universities and colleges offer scholarships. These are awarded on a different basis so almost everyone can apply. Those who are good at sports can apply based on their playing record. Some can get a scholarship because of their good grades.
Translations for Scholarship:
Regardless of the grant you want, you cannot get it without applying for it. But even before that, you will have to get admission to the academic institute first. Only after getting admission can you apply for a grant or fee reduction. However, if you are applying to a foreign academic institute and your documents are in a different language, then they must be translated from the source material first. You cannot apply to an American college if you fail to submit the English translation of your academic documents.
People have to make a lot of effort to achieve their goals. When it comes to getting admission or a scholarship, you will have to fulfill all the requirements of the institute. You cannot expect them to take your application seriously if it does not contain all of your information. You can start by gathering all of your academic documents. You should check with the institute to figure out which papers must be translated for submission. Some universities only need to see the degree of their applicants while others ask for course transcripts. In some cases, a student may have to get their degree evaluation to figure out whether or not they are eligible for a course.
Once you are done with gathering your data, you can get in touch with us for scholar translations. You will need certified translations of all of your academic records; otherwise, they won't be considered valid documents. Once you have the translations, you can also use them when applying for a grant. Only with valid and accurate certified translations can you prove to the university administration that all of the records you have submitted are correct.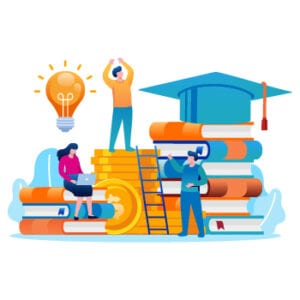 Universal Translation Services is the best academic translator' in the business. We are also very reasonable when it comes to our academic translation rates. Call now and get a quote.