Press releases, news, and editorials are still the most effective way of bringing news to people, and in case you need to increase your reach at a global level, accurate translation services are needed. We can translate anything, from and into any language, no matter if they're news or editorials, and we give you the best prices you can find.
Press translation
Newspapers and magazines are still widely used in the corner of the streets as a way of transmitting information to the world. It is an old exhibitory technique that was brought into the premises of the countries as a rapid source to deliver the news of the previous days. As development in technology has occurred, the newspapers still hold a valued compartment in the press.
Press translations refer to the stories of the world encased in the paper bounded informants of the media translation for the media industry. Along with the basic needs of newspapers, the relevant press on TV shows and social media are united on the basis of the provision of important information. This media is present worldwide on local channels, but for it to be understandable, the need for translation comes in foreign lands.
Press translations are carried out with respect to the native translators on service to establish the quality assurance through proper channels. We are efficient in our extensive services and wish to prevail cordial relations with the clients. In the hopes of doing this, we ensure our services carry the reliable quality and definite accuracy to refrain from the potential misconceptions regarding the freedom of thought attained through the transmission of knowledge.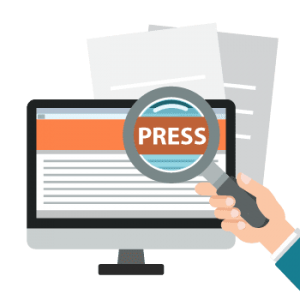 Press release translation
We deal in a number of languages which are translated accurately with the help of a proper team of experienced translators, natives of your target language. We can deliver your message the right way no matter if it's purely press or press releases you may have.
Editorial translation
We have professional translators ready at your service for any kind of translation that you require; books, newspapers, cover letters, etc. They will provide highly accurate translations for any press-related material you may have, including editorials.
News translation
The news is the most relevant source of providing the audience with current events, gossips, progressiveness, and the destruction of the world. If you need to have news translation we can do it for you no matter what language combination is required.
Editorial translation
Poetry and stories are often found in many countries following the same sense of fashion but in different languages. These are the products of editorial translation. Books and poetry carry the essence of playing with the minds of the people through words. Their basic concept in this is to trigger the lost and dying emotions of people to generate a basic idea.
The editorial translations are carried out to transform a local poet but talented in his own expertise, to prove best seller by providing an international platform to him. This international platform is incomplete without the necessary translation services acquired to transmit the soul of words to the natives of the foreign land so that they might perceive the words in their own way, but the words of a publisher are not varied in accordance with the original content of the masterpiece.
Editorials hold the essence of transmission of the basic idea behind the products and its potential to attract the target audience for the further promotion of the brand. Businessmen need their press releases to be officially concentrated but balanced with the vital information that will surely gain the eye of the customers and entrance them with its melody.
On the other hand, publishers can also gain beneficiary command over our editorial translations by printing the press carrying relevant information to the premises of a target audience. They can publish the news without any misunderstanding due to incoherent translations because we work with the best translators and mistakes just don't happen. We will help you expand your reach by properly conveying the message in the original transcript, adapted to trigger the right emotions in your target audience.
News translation
The news keeps us up to date with the current happenings through which we gain an idea of the comparison between different countries of the world and their present situation.
We deal with news on every forum for we know the importance it carries for businesses looking to expand to the world. We deal in the extensive press release translation ranging from coherent deliverance of news to the spectators to the massive knowledge encrypted in the print media through the postings of newspapers and brochures alike.
Universal Translation Services offers news translations to our clients who have a scope of transferring their broadcasting channels to a wider community. But the need for translations arises as the language of the foreign land differs from that of the channel. We provide them with accurate translations such that the audience of different countries can connect with other countries. And via this productive service keeping intact with the relevant source of communication by avoiding mishaps in the process.
Universal Translation Services is ISO certified and deal with the standards and regulations displayed on the international standard organization. And we are proud members of the organization and strictly follow their rules to acquire a translation that will best serve your needs and wishes. Our company is available at your service anytime feasible, and we will reach out to you with a solution that is bound to fix your problems regarding the translation.
We rely on information to stay up-to-date about our world. The internet has made it super simple for people to access information of all kinds. People can set up alerts on their phones and get a notification every time there is news about their selected topics. However, we rarely stop to think about the process through which information reaches us. Although there have been instances of fake news, responsible media tries to bring credible information to us. In order to do that, they have to go through a long process of verification.
What is the meaning of News?
Do you ever read something on the internet and begin to wonder why is the information on the web? Some pieces of information cannot be classified as news, and it is the journalists who should know better. So, what exactly is news? When does a piece of information become interesting enough to be considered news? Well, for starters, a piece of information doesn't become important just because it is something new. If a toddler starts walking, it is a new thing for its parents but definitely not important for the population of the world.
So, the news is something that is not only new but also noteworthy. It should not be something that happens every day. However, sensationalism has become a huge part of reporting nowadays, which is why some things end up on TV channels that the public does not need to see. In the age of information, the responsibility of journalists and reporters has increased. They have to ask themselves every time before reporting whether the piece of information they have fits the definition of news or not.
Types of News:
There are as many types of news as there are fields to cover for journalists. When the whole world is being covered, and the affairs of foreign countries are being observed and reported, it becomes international news. Then there is sports news in which reporters cover all the happenings on the field and in dressing rooms. There is entertainment news that a lot of people follow with passion. They want to be the first to know when a movie gets announced by their favorite studio. They want to keep an eye on the upcoming projects of their favorite actors. A single person cannot cover all the different fields. In order to report from a specific field, a person should not only have the right qualification but also have relevant experience.
If someone does not know much about cricket, they cannot report on a match. In the same way, someone unaware of the workings of Hollywood cannot attend a movie premiere and write a review. There are various fields in journalism that people can join in after getting their qualifications.
Translation of Newspapers:
Today, whenever something happens in one part of the world, everyone with a social media account becomes aware of it instantly. However, most of the time, this piece of information is circulated on social media in English. 80% of the world's population cannot speak or understand English, which is why information has to be translated into multiple languages so it can reach everyone. When it comes to newspapers, there is a special type of information that they contain.
There is no breaking news on paper in the digital world of today. But that doesn't mean newspapers do not contain important information, which is why they need to be translated into different vernaculars to make them accessible for everyone. However, the language used in newspapers is a special type of vernacular. It isn't the tongue we use in everyday conversations, which is why only qualified and experienced translators can handle the text. Although cultural aspects must be considered in this type of cultural translation too, it is the accuracy that matters the most. A simple error or incorrect translation can change the meaning of a headline. The readers will end up being misinformed about important issues. So, news agencies must only hire reliable and qualified experts for the job instead of bilingual people who don't know anything about journalism and translation.
Journalistic Translation:
There is a language of journalism that cannot be translated accurately by someone not familiar with it, which is why someone with a journalistic background can handle the job in a better way. Although you don't necessarily have to hire a journalist who is working as a translator but make sure your final document is approved by a native reporter. Having a native journalist go through your document will help you ensure accuracy. This way, you can provide your readers with accurate news and eliminate all possibilities of spreading misinformation.
It can be difficult to find someone with experience in newspaper translation, but if you look for agencies that offer support for all fields, you will be able to get in touch with the right expert. Once you have found an expert, you can hand over all of your linguistic problems to them and give them the creative freedom to come up with reliable solutions. At the end of the day, newspapers do not only have to be accurate, but they must also contain good language. They cannot afford to include cheap writing, which is why choose an expert you can rely on to provide you with the right kind of data. When you publish the translated news, it must interest people and not just inform them of the latest happenings in the world.
We are one of the leading translation companies in the US and firmly believe in attaining cordial relations with our clients to establish a sense of credibility and reliability. Reach out to us and help us in moving forward with our aim to serve the best to our clients and giving them a tremendous translation experience.