Universal Translation Services – International Translation Company
If you are looking for accurate, professional translation services, efficient localization and excellent DTP services, let Universal Translation Services take charge. With numerous specialized translation departments, you can expect no less than a premium output.

BBB Accredited Company
If you need accurate translations from and into any language at affordable rates, Universal Translation Services is the company to go with. We offer accurate translations for businesses and for individuals at fair prices and you can always count on us for any linguistic needs you may have.
See our Better Business Bureau Accreditation here.
Members of the ATA
We are members of the American Translators Association and you can entrust us with any project, including translation for immigration in the US. We have over 3,000 translators, we follow the strict rules and regulations imposed by the USCIS and all our translations are guaranteed to be accepted by any US institution.
See our ATA membership here.

Translation Agency
Universal Translation Services is a professional translation agency which offers high quality global language translation services at the best prices. Our workforce comprises of proficient linguists with specializations in various languages. Any large assignment will present no difficulty to our dedicated team who will meticulously handle your requirements. Our clients are our main priority which is why our team understands their different needs. Be it a large task or a small one, we would be happy to be involved.

ISO Qualified
Furthermore, our translation company is backed up with ISO certification, which means that team members adhere to the industry's rigid quality standards at all times. In order for us to live up to our promise of an outstanding service, each job is assigned to a linguist who specializes in the relevant field.

Qualified Translators
We aim to render quality work; hence our translators and editors have been rigorously screened and selected. These professionals work for our translation company on a full-time basis and are regarded as expert speakers of their native language. For your professional document translation, editing, proofreading and localization needs, look no further and leave it to us. Universal Translation Services will make things possible for your company by precisely conveying what has to be said in whatever language and wherever in the world it may be.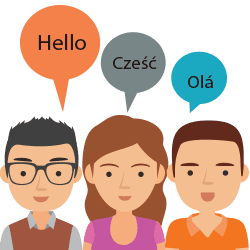 Translation for immigration
We are also able to help individuals who are looking to immigrate to the US, to continue their studies or to get a job here as a foreigner. Our translators are able to translate any personal document (birth certificates, marriage and divorce certificates, diplomas and degrees), from any language into English.
To line-up with our affordable services, we charge some of the lowest rates in the US for certified translation and we guarantee acceptance at USCIS or any other legal office within the US. In rare cases when notarization is needed, our online notary public is always available to not only notarize our translations, but also to help you with any notarial services you may need.
Get in touch online where we are available around the clock or visit our offices if you have any questions or need a free quote, our project managers are always ready to help you out.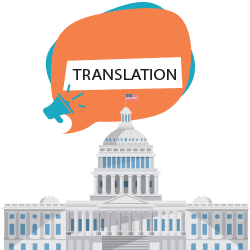 Best Prices
With more than 16 years of experience behind us in the translation industry you have come to the right place. We have offices in Europe and the United States. We offer a 24-hour service without any extra cost, we do not have any rush job rates or any extra to add on. Our vision is to clearly communicate with our clients.
We charge a clear flat rate per word for all language combinations from and into English. Besides just regular document translations where most of the times we can deliver the same day, we offer certified and notarized translations. We have developed, over the past 16 years, an amazing full efficient project management system that we adjust monthly to offer the most efficient service on the planet.
We offer the best and most competitive prices on the planet per word, but we are also the lowest priced for certified and notarized translations.

Available 24/7
With offices in Europe and in the United States, we aim to serve clients all over the world. Therefore, we are working around the clock, in three shifts, and our project managers are always online to help you with anything you need translated.
Due to using our own, in-house made translation management software, we are live connected with our team of over 25.000 translators and we are able to take on any task, any language combination, no matter the size of your document.
With Universal Translation Services you no longer have to wait until a suitable translator is found. As soon as you approve our quote, we get in touch with the right translators and proofreaders and we start working on your project in minutes!

Live-Chat Support
Can't wait? We are all in a hurry, right? So please contact us through Live Chat so we can give you a quote. We regularly charge per word but talk to us as maybe we can give you a better price.
What about the quality? We always use 2 translators on your project who are secure checked and tested before being a part of our group. The translators work will always be checked by a second translator who is going to double-check the work of the translator by comparing the source with the target text.
Contact us live NOW without any obligations. Questions are free!
Affordable translation services for any need
Accurate translation at a professional level
Language translation is not as simple as you might imagine. Certainly, you have to be really good at languages that you use, but getting an accurate translation at a professional level is the main thing. In other words, you have to know the subject you are translating!
That's why we employ professional translators who are not only linguists and language maniacs, but also really well-informed at various topics. If you want a truly high-grade, dependable and accurate translation service, Universal Translation Services can provide you with that.
Thousands of customers have trusted Universal Translation Services with their projects so far, and not even a single one has anything negative to say about our services. A large part of them are old clients which always come back to us when they need more translations, and they are always happy with the output while leaving behind positive feedback.
2 professional translators to each project
Our translators are well attentive of the process of adapting information to an appropriate layout that will perfectly fit the target language and culture. We always prefer native speaking translators for quality results since it is certain that they would be well aware of their respective cultures.
We assign 2 translators with each project who are carefully tested before accepting them in our team. Both linguists are carefully selected so they are natives of your target language and are well-versed in the field: the first translator translates and the second proofreads the translation. The initial translation will always be verified by a second translator who is going to ensure the work of the translator is accurate by evaluating the translation and comparing it with the original text. The translation is finally checked by our quality assurance team which sends the output to the client along with a quality report.
Professional, consistent and competitively priced, we are a service provider that gives you more. Why not get in touch with us for a free quote?
Miami Translation Company
Our main translation office is in downtown Miami, FL, which is open around the clock including during the weekend. You can drop by at anytime and leave us your documents. If you want certified translation of your personal documents, you can have your translation done in just a couple hours.
Find out more about our Miami translation agency, address, phone, directions.
Aventura Translation Office
Our second office in the USA is in Aventura, North Miami. which is also open 24/7. If you need fast translations for business, legal, technical, medical, but also for immigration purposes, get in touch with our Aventura office where we can translate from just about any language into English at affordable rates.
Here's how to get in touch with our Aventura translation office.
Translation Office In Spain
Our translation agency in Spain allows us to serve clients from all over the world. It also gives us the option to recruit translators from Europe, natives of their target languages and specialized in different fields. Our main acceptance condition for a translator is that he should live or have lived in the country where his native language is spoken.
More information about our Spanish translation office here.
Online Translation Services
If you're not close to our offices or don't have the time to visit us you can use our online translation services from the comfort of your home. We provide multiple ways to get in touch with us and ask for your free quote: by phone, e-mail, contact forms or live-chat, you are able to quickly get in touch with our project managers no matter where in the world you may be. Any questions you may have will be answered in a matter of minutes and a quote sent to you by e-mail. If you're ready to start with your translation you'll be able to securely pay your invoice from any internet device, be it a laptop or a mobile. As soon as the payment is received, we will assign the best translator and proofreader to translate and when they're done and the translation is checked by our quality assurance team it will be sent to you.
Another advantage in using a US translation company is that you also have the option to have your translation sent to you by regular mail, and you'll receive it faster.
Regardless of the type of your documents such as birth certificates, educational transcripts, immigration papers, marriage papers to divorce agreements or any sort of document can easily be translated into another language fast and secure by using our expert online translation services.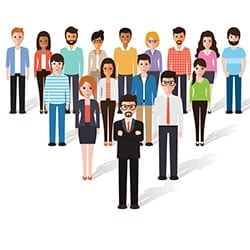 The advantages in working with an international translation company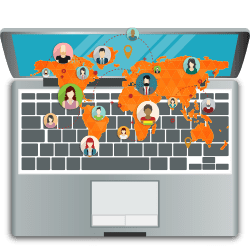 There are many advantages in dealing with an international translation company instead of a local one. A translation business working at a global level has more resources in terms of both staff and technology, allowing them to provide faster and more accurate services.
Universal Translation Services uses professional translators from all over the world, linguists who not only know their language perfectly, but actually live there, which is of extreme importance when it comes to translation and localization as your message needs to be translated and localized to that specific market you are targeting. Who would know better their slang, culture and habits than a local?
Whether you need translation for business or for immigration to the US, you can rest assured that we will always have at least 2 linguists who are natives of your target language and specialized in your field which will be assigned to your project to translate and proofread, giving highly accurate translations at affordable rates.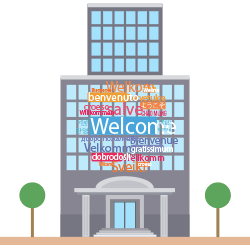 Universal language services
Universal Translation Services is proud to offer universal language services to all its clients. Unlike other services, we provide translations of even lesser-known languages. Our team consists of translators from all over the world who not only understand different languages but are highly qualified to translate them too.
We work with over 3,000 professional translators, we are able to provide translations from and into over 120 languages and we deal with 550 language combinations, so you can rest assured that no matter the language of your document, we will provide an accurate translation for it.
We understand the ease that online services bring with them, and that's why we also offer online translation services. You can get a document or text translated without having to leave your house. Our online document translator service is available at any time and you can easily order online. You also have the option to get in touch with us by live-chat, phone, or email if you have questions or need certified and notarized translations. As soon as you order we will get your project going and we will email your documents to you as soon as the translation is completed (or mail you the hard copies if you prefer that over email).
Advantages of an international translation company
International Translator: With an array of international languages spoken by the professional translator, you'll have the capability to reach clients all over the world. There will be no need to avoid business deals because of language restrictions as the translator will translate all the documents and information required for you to engage and proceed in any language you desire.
Top Notch Quality: International translation services make use of the latest technologies to ensure continuous translation services with flawless delivery. You can count on accuracy and professionalism from the translator as they are held to the highest of standards.
Open 24/7: Universal Translation Services is always 24/7 available for your assistance. We are working around the clock and always online to help you with anything you need to be translated. We customize our services precisely to fit your needs so that you get the services that you need and don't waste time or money on things that you do not need.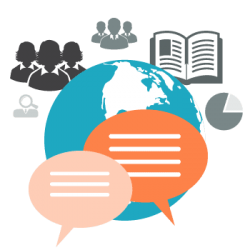 International Translation Service
The seven billion people on earth cannot survive if each country was living cut off from the rest of the world. Our survival lies in sharing resources. Sometimes we come across a video on the internet which is not available in our country and that makes us angry when that is just a video. Imagine if that were the case with more important things. If we had been unable to get medicines, books, or food items simply because we lived in a different place, we would have lived a very difficult life. It is not just the matter of cooperating but making sure the world remains accepting of every nation.
Our means of communication have evolved with time and so have the languages we speak but the one thing that hasn't changed is the need of translation. We need an international translation service in order to survive on this earth where people speak more than 7000 languages.