Death Certificate Translation Services

Are you considering immigrating with your family to the United States and wondering if you need to look into any death certificates that you have to submit in order to clear the immigration process? In this case, you will need death certificate translation services, which we provide at affordable rates.
A translation of death certificate needs to be done in a specific way, and Universal Translation Services is here to tell you that there are certain circumstances when the submission of death certificates becomes a compulsory part of your application to the legal offices in the United States. Following are a couple of reasons we can think of, of course, there are many other circumstances when death certificate translation services are needed;
The death of a child that you had, when you are applying for a family visa. This includes the children who were adopted.
If you are submitting an immigration application for your parents and one of them has passed away.
If your spouse has passed away.
If you are submitting immigration documents for your married children and any one of the family members have passed away.
If you are submitting immigration documents for your siblings and their families and any of the family members have passed away.
In any of the above cases, if the death certificate has been issued in any other language than English, you will have to use death certificate translation services in order to get USCIS certified translation, a type of translation that will be accepted by the immigration office.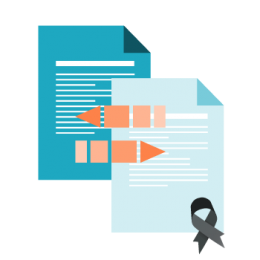 Accurate translation at low rates
Whether you need the translation of death certificate for USCIS or for any other country, we can help you with highly accurate and cheap certified translation services for any personal document, from and into any language. Even more, if you need to have your translation notarized, we can do that too!

From any language into English

If you are dealing with immigrating to the US, all your personal documents have to be translated and certified according to the USCIS requirements. We are an US translation company which for more than 18 years has been providing translations for USCIS and we have yet to see our work rejected by the immigration office.
Fast delivery in 24 hours
Despite dealing with every project with care and attention, due to using a highly efficient management system, we are able to deliver your translation fast. Our normal turnaround time is one day, but if you need your translation even faster, we'll do our best to deliver at your convenience, without charging any extra rush rates.
Is an ATA member needed when it comes to translation of death certificate?
All the translation procedures that are done have to be conducted by a member of the ATA or the translations may not be accepted. That includes any personal document.
Universal Translation Services is here to provide you with the best expertise when it comes to death certificate translation services for the certificates of your family and friends. Following are the reasons; we are the best candidates for getting your content translated;
All the certifications and notarizations that we issue are one hundred percent credible.
We offer translations from over 120 languages.
These procedures are employed to ensure a clear and strong system for getting the translations for your certificates.
Why Choose Us?
You should choose us because we are the best in business. Death Certificates are usually submitted by individuals who are clueless about how to make sure that the document is accepted by the USCIS.
Scrutiny- Faking death certificates is not as uncommon as you would think and that is why the documents are strictly verified by the immigration office. We will make sure that the document is translated and certified according to the requirements established by the USCIS.
We have outlined these procedures so that you will understand better, but of course the process requires expertise in how to handle legal offices. We are here to make sure that the translation is accurate and the certifications that we provide are strong and cannot be refused.
Death certificates from a foreign country
If your death certificates were issued from your native land that is the foreign country for the USCIS, we are here to help you understand the procedure that you will follow if you are submitting your documents to the immigration office of the United States.
Even if the death certificate that you are submitting has been issued in English, if it was issued outside of the United States then it will be considered a foreign death certificate that will need to be translated in accordance with the requirements established by the USCIS.
What you need to do? You need to make the death certificate ready to be presented to the legal system. For that, you need to make your death certificate that was issued by a foreign country, ready for the County Recorder's Office. This will require that you get a recording issue for your death certificate. In order to achieve that, you need to make the death certificate ready to be attached to the Affidavit of Death.
How to prepare the document for submission?
The translation of death certificate is needed for the submission. The translator will have to be an approved only by the county where you live. Even if most of the content of the certificate is in English, the portions that are not English will still have to be translated.
The translator will also issue a "Declaration and Certification of Interpreter/Translator"; the certificate will be signed in the Notary office in front of a Notary Public.
Now the documents can be presented to the Superior Court that will approve.
Now the documents are presented to the Registrar Recorder's office, also known as the County Clerk. The County Clerk will issue the Translation Certification.
Now your document, the translation, the declaration / certification and the translation certification will also be attached to the original Affidavit of Death.
Why would you need certified death certificate translation?
A certified translation is a specific kind of translation needed by U.S. Immigration, visa, school and university enrollment, and many other local and Federal government official uses. Universal Translation Services delivers certified translations including a valid certificate of translation accuracy which verifies the precision of the translation and the skills of the translator. If certification isn't needed, we also offer general translation, which is presented in an editable form and is used for business or personal goals.
To settle the deceased's estate, a certified translation of the death certificate will be required. The death certificate translation will be needed for various purposes such as the transfer of assets and property, disbursement of insurance benefits, arrangements for funeral or cremation, etc.
Our pool of professional translators can translate your death certificate from 120+ languages. Every piece of information is confirmed to be accurate and error-free, and the translation is guaranteed to be accepted at any state institution in the US.
We offer our death certificate translation services at a very affordable rate. Yes! Cheap priced death certificate translation is what we are providing to our clients! That is one of our objectives, to make our services affordable to people of all walks of life because we understand that important document translation should not be hard and costly to deal with.
Notarized Translation may be needed!
Here we would like to reiterate for our clients that death certificate translation services should always be ordered with Notarization and Certification because these two elements have been deemed compulsory by some institutions. In case you know for sure that the translation will not need to be notarized, certified translation will do. But, in our experience, notarized translation is needed or it will not be cleared by the system upon evaluation.
Universal Translation Services is here to provide death certificate translation services with our best translators in the system. We are the most dependable and credible provider when it comes to translation of death certificate when the document is aimed at the USCIS office.