At Universal Translation Services, we can provide all kinds of Portuguese to English and English to Portuguese translations for our international clients. Whether you need certified translations for your official documents or you need a technical translation, we can cover it all for you.
Certified Portuguese To English Translation for Immigration:
If you are living in Portugal or Cape Verde, your official documents would be in Portuguese as it is the official language in both countries. So now if you are thinking about planning your next study tour to the US or ready for a family vacation in New Jersey, you'll be asked for a certified translation of your Portuguese documents in English. For that, you need a trusted translation company. We provide certified translation for immigration. Our translated documents are fully compliant with the USCIS requirements.
USCIS or United States Citizenship and Immigration Services is the regulatory authority for immigrants in the US. Upon entering the states, all immigrants have to pass the regulations imposed by this agency. In order to enjoy your stay in the US as per the purpose written in your visa, everything will be checked by immigration. The first thing that you'll need here is your official documents such as your birth certificate.
Your Portuguese birth certificate will not be accepted by USCIS. You'll need the contents of your original certificate translated into English in the same original format. Now you may think that you can do it on your own or ask your university professor to do the favor. But this is not advisable. Your entrance into the US depends upon your recognition, the proof of your nationality, and the fact that all the information is 100% correct. So, for that, you can rely only on professionals. We guarantee USCIS acceptance for all our translations.
We have native translators who are fluent in Portuguese. They also understand the terms used in various Portuguese speaking countries. This is why they can translate your Portuguese documents with accuracy. They have keen attention to detail. Their knowledge and qualification are unquestionable. Keeping the requirement in view, they work alongside immigration lawyers, legal experts, and proofreaders to avoid any possible trouble. Proofreaders are always on board for a flawless result. Our work system was crafted to ensure a budget-friendly and efficient service for our Portuguese customers.
Portuguese Translations for Businesses:
Expanding your services to a new country is a big decision. Your creative team has to spend hours in research. Marketing members have to create a customized plan. A new social media campaign. Pamphlets, logo designs, and local advertisements, it's a whole lot of work. But what if your customers can't understand your promotions because they speak a different language?
Well, to save you from that horrible thought, we bring to you our Portuguese translation services for businesses. Our website translations and localization services are excellent. If you are ready to introduce your website into a Portuguese speaking country and you are looking to offer jobs, we can help with that too. Ranging from job descriptions, user manuals, guidelines for graduate students. Have an app ready for the Latin American audience? Our Portuguese translators can localize your app with a brilliant approach. They work with software experts, native interpreters, and marketing experts to create perfect menus, settings, and language options for better understanding.
Our Business Translations for Brazilian Audience:
A singular language can be different for people living in different regions. Portuguese is the lingua franca of many Latin American countries. And it may sound the same to us. But native people are more aware of the variants and dialects. Lucky for you, we understand that completely. Our expertise is not limited in any sphere.
This is why our Portuguese linguists for Brazilian projects are natives. Our Portuguese language experts are here for all your business translation needs. Brand promotions, business agreements, website translations, localization services, legal papers, you name it and we can take care of that. All you have to do is just plan your way ahead. We can also provide you social media translations, ad campaign translations, and any other content that you want to get translated into Portuguese.
Our Localization Services for Portuguese Audience:
Ready to advertise your service in Portugal? We are here for you. We can take care of the Portuguese expressions that you are hoping to put into your content. Our Portuguese interpretation services and Portuguese document translation services are available at affordable prices.
When you think about introducing your English app for the convenience of your Portuguese users, we are the people you need. Unlike automated translators, our creative team works on creating the right impression for your website. We ensure that your social media posts portray your brand image in the way you wanted to. Our translators will help you put that message across. Imagine how happy your Portuguese customers will be when they'll receive the notifications in their native language.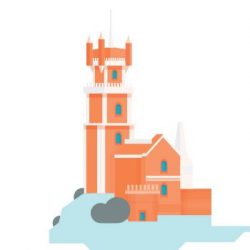 Portuguese: The Language of The Iberian Peninsula
Portuguese; A romance language which is spoken in the Iberian Peninsula. It is the official language of Portugal, Brazil, Angola, Mozambique, Cape Verde, Sao Tome and Principe, and Guinea Bissau. A Portuguese speaking person can also be referred to as Lusophone. Portuguese is the sixth-largest spoken language in the world with over 270 million speakers all across the globe. The language is also regarded as one of the most influential in the world.
According to UNESCO, it is the fastest-growing European language after English. Portuguese is one of those languages which have still preserved the original Latin vowels. Portuguese has many loan words taken from French and English. Portuguese and Spanish are also mutually intelligible. Speakers of both countries can easily make a conversation. There are many creole-based languages derived from Portuguese.
For such a popular and commonly used language, we have all the translation services you can think about. We can provide medical record translations for patients. Our legal translations are carried out under expert supervision. We also understand that rushed situations need a quick turnaround time. The project managers at our agency are fully qualified to answer such concerns. Read this blog post to know What language is spoken in Brazil?
How to Get A Free Quote?
In today's world, getting price information beforehand is crucial. The same is with getting a quote for your translation projects. You can get your free quote by sharing your project details with us via live chat or email. We can provide you with an instant quote right away.
We also have a word counter tool where you just have to paste your content, it will count the words for you. From there you can also get a per word rate.
Quality Assurance:
We never compromise on quality. This is our brand recognition. Our global services are proof of our outstanding reputation. Moreover, we have been working with international clients for decades. Their trust is our biggest achievement. To go the extra mile, we entertain your revision requests as well. UTS has proofreaders that are expert in what they do. Even though we are extremely careful about our work, we are always available for rechecking possible errors and omissions.
So, this is all about us and our service. If you have a project for our Portuguese translators, feel free to contact us right away.