Student Discount Translation Services
Cheap certified translation of personal documents at the lowest rates
Are you a foreign student aiming to pursue your studies in the United States? To proceed with your application, documents in a non-English language must be officially translated and certified. Our translation services provide efficient, affordable help, and college students receive a discounted rate.
Education has a crucial impact on our lives, helping us to acquire knowledge and understanding. Today, students travel to the United States from all corners of the globe in pursuit of educational opportunities. However, universities and government institute in the US require certified or notarized translations of documents written in languages other than English. As a result, international students must provide certified translations to enroll in universities in the US.
If you need any of your documents to be translated into English for immigration purposes or educational requirements, our student discount translation services have got you covered! We offer special discounted rates to students across the globe for translating birth certificates, diplomas, degrees, and any other academic records, within a mere 24 hours.
Navigating the application process can be intimidating, especially when it comes to translating vital documents. However, Universal Translation Services is here to offer international students complete support with their academic pursuits in the United States. We have guided thousands of students with their applications so you can expect nothing less than top-quality service. Our unparalleled translation services are guaranteed to meet the highest standards of quality and USCIS requirements, all at a reasonable cost. Our professional linguists have a vast amount of experience and know exactly what the universities expect when it comes to translations. We are proud of our 100% acceptance rate with USCIS and therefore, you can trust that the admissions office and USCIS will accept our certified translations without a problem.
Guaranteed translations
You can count on us for quality translations at an unbeatable price that are guaranteed to be accepted by USCIS and any university in the US. We have more than 20 years of experience, we are members of the ATA, and we have been accredited by the Better Business Bureau. We never compromise on quality, no matter if you need your translation in a day or in two weeks.
From any language to English

We have teamed up with over 3,000 professional linguists, both in-house and freelancers, and translators with years of experience in dealing with notarized and certified translations. We can translate documents from any language into English, and we specialize in USCIS translations, translation for university admission and education translations. When applying the student discount, our certified translation services are the cheapest on the market.
In a rush? We deliver in 24 hours
We know that you are usually in a hurry and need your translation done quickly. Our standard delivery is the next day but if you need your translation faster, get in touch, and we'll do our best to fit your schedule. And, no, we do not charge extra for faster delivery, nor do we have hidden fees or additional rates when you need to have your translation done over the weekend, as we are working around the clock anyway.
Why would you work with us?
For college students, selecting a translation agency can be daunting. Universities each have their own regulations when it comes to translated personal documents, so it's important to check what is required from the admissions office. While some documents only require certified translation, notarization may be required for others. Before ordering a translation from us, make sure to check with the university admission office to find out exactly what is needed for your documents. This will help to avoid any possible situations where notarization is needed but you've asked for a certified translation. Fortunately, if the translation was done by us, we can easily provide notarization in such cases.
With us, you don't need to worry about sorting through numerous translation agencies for a good price, because we've got you covered. When you order with us, you get the benefit of discounted translation rates exclusively for college students. Here are some other reasons why ordering with us is the best choice:
We provide services for all personal documents
We translate from any language into English, no matter how rare the source language is, two native translators will be available to assist;
All translations are proofread by a second linguist;
Translations are certified per university and USCIS requirements and are therefore guaranteed to be accepted.
We charge the lowest rates you can find in the US;
There are no hidden fees or rush rates;
We offer notarized translations. We have our own in-house, online notary public who can notarize any document at any time, not just translations;
We deliver the next day, possibly even faster if required;
We work around the clock- including weekends, to ensure you always have the help you need.
What documents do we translate?
Are you wondering what documents we translate? The answer is every type of document. Our translation services come with a student discount and are available no matter where you are. Depending on where you come from, the educational system may be different than the US. We are able to translate and adjust documents to make them suitable for the US education system. These are some of the documents we can translate and adjust for you:
Diploma translation: No matter what academic credentials you hold – whether a high school diploma or a college diploma, or any degree like a bachelor's degree or master's degree – our team is available to provide translation services, as well as for any;
Report cards;
Recommendation letters.
Along with educational records, some other personal documents may be needed, and we can translate any of those as well, including: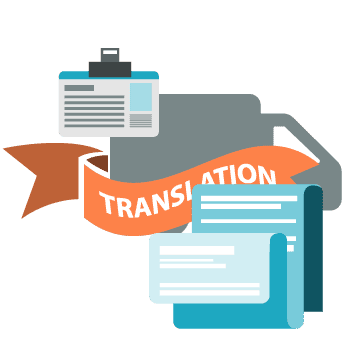 10% Student Discount – How Much Does a Certified Translation Cost?
Our rates are transparent, and your complimentary quote will display the full expense for your translation. Our fees are lower than those offered by any other service provider, and no extra costs will be added unless you request extra services. So, what's the price for your documents to be translated with us?
Certified translation cost
If the certified translation is needed, it will cost you
$20 per page if there are fewer than 200 words on the page, plus a 10% discount on the translation
$0.10 per word if there are more than 200 words on the page; ask us for a volume discount
Unsure of your word count? Reach out via live chat and send us your document- we will be happy to count the words for you and provide you with a free quote in five minutes or less.
Notarized translation cost
If you need to have your translation notarized, you will have to pay the certified translation cost above, plus another $20 per document.
Digital Certified Copy
We deliver your translation by email, in pdf format, which you can then print or send it directly to the admission office. We do not provide hard copies anymore. However, we do provide a Digital Certified Copy of your translation, which is an online copy with a Certificate of Evidence. Click here for more information.
How to Request a Quote?
There are multiple ways to order your translation:
You can:
Take a picture of your document(s) using your phone and ask us for a free quote via text or WhatsApp.
Send us a scan of your document(s) and your requirements via email.
Use our certified and notarized translation tool and follow the steps to place an order.
Ask us for a quote or any other inquiries via live-chat.
Visit our translation offices at any time during business hours.
Call us to inquire about the costs and quote, but you will have to send us an email after with your document.
Text our Emobme number in case you don't have an internet connection and want to request a quote.
How to Place a Translation Order?
After submitting your document(s) with all the requested information in the way that works for you, you'll get a quote in five minutes. As with any translation service, our student discount translation services function the same way: you receive our free quote that includes the cost and deadline. If you're in agreement with the information, you can use the link in the same email to complete the payment. Upon receiving your payment, our top translators will be assigned to the task and take the following steps:
The translator translates the document;
The proofreader edits and corrects the translation;
The draft translation is sent to you by email for approval. If you want any changes, there will be a unique link to our online editor to suggest them;
If there are changes to be made, we will edit the translation and send you a second draft for you to approve;
As soon as you approve the translation, we will send you the final version, translated and certified, by email in pdf format;
Student discount translation done right
The journey of a student is one filled with thrills and joys. Beyond that, they can take advantage of their status as a potential leader of the future. When students reach college or university level, however, it is no longer a time of mere enjoyment. In the quest to reach the summit of learning, students will continuously strive for excellence. They might be seeking admission to a highly prestigious university, delving into new foreign cultures, or searching for a job opportunity abroad – all these are part of the climb towards achieving their educational dreams.
We strongly believe that students should be encouraged to pursue their dreams and strive for greater goals without worrying about language as an obstacle. Our student discount on translation services is proof of our dedication to helping young people on their educational journey. With the cost of education already so high, we believe this support is vital.
Universal Translation Services ensures translation services won't be a financial burden for students. We offer discounted translation services for any documents that need to be translated for immigration services or universities, so you can realize your dream without having to worry about the cost or convenience. Let us handle your translation needs today.
Universal Translation Services assists foreign students in achieving their dreams of studying in the United States, providing them with discounted, top-notch translation services at the most competitive prices available. Request a free quote today!
Universal Translation Services comes to your aid if you want to continue your education in the US as a foreigner by offering student discount translation services of the highest quality at the lowest price you can find online. Get in touch to ask for your free quote!