Student Discount Translation Services
Cheap certified translation of personal documents at the lowest rates
Are you looking to continue your studies in the US as a foreigner and dealing with university admission? If your documents are not in English, you will need certified or notarized translation, and this is where our student discount translation services can help you fast and at a low price.
Education plays a vital role in our lives. It shapes our knowledge and experience, thus making it very important for everyone. It is now common for students to cross borders in their educational quest and there are thousands that want to continue their studies in the US. Since they are coming from all over the world, their personal documents are not in English, and the universities in the US require certified or notarized translations for such documents.
If you require your personal documents to be translated to English for academic reasons or for immigration you can always count on our student discount translation services, a special offer for students all over the world where they can have not only their birth certificates, but also their diplomas, degrees and any other academic records translated in 24 hours at the lowest rates in the US.
Universal Translation Services is a US translation company which provides 360-degree support to international students in their educational journey. We are dedicated to ensuring top quality translations to all international students who are looking to continue their studies in the US. We offer you end-to-end educational translation services to have all your documents translated to the highest standards at a fair cost. We provide first-class certified or notarized translation of all personal documents, from any language into English. Our translators are professional linguists with years of experience and we are well-aware of the university requirements so you can rest assured your translation will be accepted by the admission office.
Guaranteed translations
If you order your translation with us you don't only get the lowest price for you, you also get high quality translations which are guaranteed to be accepted at any university in the US. We have 18 years of experience, we are members of the ATA and we have been accredited by the Better Business Bureau. We never compromise on quality no matter if you need your translation in a day or in two weeks.
From any language into English

We have teamed up with over 3,000 professional linguists both in-house and freelancers, translators with years of experience in dealing with notarized or certified translation. We are able to translate documents from any language into English and we are specialized in USCIS translation and translation for university admission, and our student discount translation services are the cheapest on the market.
In a rush? We deliver in 24 hours
We are aware that you are usually in a hurry and need your translation done fast. Our standard delivery is next-day but if you need your translation faster get in touch and we'll do our best to fit your schedule. No, we do not charge extra for early delivery, nor do we have hidden fees or extra rates when you need to have your translation done over the weekend as we are working around the clock anyway.
Why would you work with us?
Each university comes with its own rules when it comes to translation of personal documents. Most of them would require certified translation but for some documents notarization may be needed. It is best to ask the admission office of the university of your choice what exactly you need to have then come to us. That way you can have exactly what you need from the first time. There may be cases when you have asked for a certified translation only to realize that notarization is also required. If the translation was done by us, we can notarize it at any time if needed at some point.
While there are numerous translation agencies in the US they do not provide student discount translation. Here are some benefits in ordering your translation with us:
We do any personal document;
We translate from any language into English, no matter how rare the source language is, we will have at least two translators natives of that language;
All translations are proofreaded by a second linguist;
We can do certified and notarized translation. We have our own, in-house, online notary public who can notarize any document at any time, not just translations;
We deliver the next day, possible even faster if required;
Our translations are guaranteed to be accepted by your university;
We charge the lowest rates you can find in the US;
We don't have any hidden fees or extra rush rates;
We work around the clock even during the weekend and we will always be here for you
What documents do we translate?
Were you wondering if we are able to translate all your documents? Yes, we are. No matter from where in the world you may be, our student discount translation services are meant exactly for that. Even more, depending on your native country, the educational system may be different from the one in the US and as such your grades or courses may not correspond to the US system. We are able to translate and adapt such documents to the US. Here are some of the documents we can translate and adapt to the US education system for you:
Diploma translation: no matter if it is a high school diploma or a college diploma, you can have it translated with us;
Any degree like bachelor's degrees or master's degrees can be translated as well;
Report cards;
Academic records;
Recommendation letters.
Along with educational records, some other personal documents may be needed and we are able to translate any of those as well, including: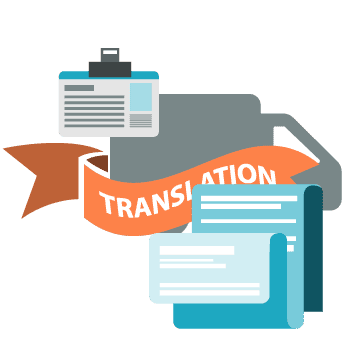 Student discount translation – how much does it cost?
We are open with our rates and your free quote will include the total costs of your translation. This is student discount translation so it will cost less than any other service you may find. There will be no extra fees added to the quote unless you need extra services. So, how much does it cost to have your personal documents translated with us?
Certified translation cost
If certified translation is needed it will cost you
$20 per page if there are less than 200 words on the page plus 10% discount on the translation
$0.10 per word if there are more than 200 words on the page
If you are not sure about the word count please get in touch by live-chat and send us your document, we will count the words for you and will give you a free quote in 5 minutes or less.
Notarized translation cost
If you need to have your translation notarized you will have to pay the certified translation cost above plus another $20 per document.
Digital Certified Copy
We deliver your translation by email, in pdf format which you can then print or send it directly to the admission office. We do not provide hard copies anymore. However we do provide a Digital Certified Copy of your translation which is a online copy with a Certificate of Evidence. Click here for more information.
How do I order?
There are multiple ways to order your translation:
Send us an email with your documents and your requirements and we will send you a quote;
If you know exactly what you need and don't have any questions you can use our certified and notarized translation tool;
If you have questions or need to talk to us you can use our live-chat feature at any time to ask questions or for a free quote;
You are always welcome to visit our translation offices at any time during business hours;
You can always give us a call to inquire about the costs but you will have to send us an email after that with your document;
If you don't have an internet connection you can always text our Emobme number with your document.
What are the translation steps?
Our student discount translation services work the same way as all the other translations. You are sent our free quote which contains our price and deadline. If you agree to it, there is a link to payment in the same email. As soon as you have paid we will assign the best translators to the task and follow these steps:
The translator translates the document;
The proofreader edits and corrects the translation;
The draft translation is sent to you by email for approval. If you want any changes there will be a special link to suggest them;
If there are edits to be made we will edit the translation and send you a second draft for you to approve;
As soon as you approve the translation we will send it to you by email in pdf format;
If you have asked for hard copies, we will send them by certified mail the same day. Depending on your location, it may take 2-3 days for the envelope to reach you.
Student discount translation done right
Student life is full of fun and thrill but it's also a time when you enjoy a lot of perks being the potential rock star of the future. However, a student's life becomes more than just enjoying as they step up from high school to college and finally to the university. To reach the summit of knowledge and skill, students are always on the hunt for the ultimate best. Sometimes the goal is to get access to a world renowned university, or researching foreign content, and other times it's about landing a decent job in a promising country.
As for us, we believe students must be allowed to dream and aim higher. Language shouldn't be their concern in any of their objectives. These are not just words because our student discount translation is the proof of our commitment to provide ease to all the young talents. Education is already way too expensive.
Thanks to Universal Translation Services, translation services won't be another add-on expense for the students. Whether they need to translate their documents for submission to the immigration services or the university authorities, through our student discount translation, things will get done with affordability and convenience. So if you are a student, just dream and let us take care of every translation need of yours.
Universal Translation Services comes to your aid if you want to continue your education in the US as a foreigner by offering student discount translation services of the highest quality at the lowest price you can find online. Get in touch to ask for your free quote!