3 tips for a successful email marketing campaign
Email marketing is one of the leading internet marketing trends at present. Through this method of promotion, many products and services are given a chance to be promoted without having to get a costly ad through broadcast media.
Through emails, you can target a mass of audience which can help companies to get people to know about their products and services by receiving messages through email. While email marketing has been devalued by spammers, it is still a great way to reach out to your subscribers.
Tips for a successful email campaign
To help those who want to do a start-up business or to those who want to do an email marketing campaign, here are some tips to help you out on making a successful campaign.
First is to craft your message. This message should capture the readers' attention because if not, it will automatically be ignored. You really need to create a good advertising copy so that you can have a grasp on their attention. Make it short and simple if it does not need too much detail. Include all important things that the potential customer needs to know so they can think of it and see if they want to engage with the product.
Know your audience. Second is to know your audience, you have to target the largest possible number of consumers so make sure that you know what the audience wants. And since it is a form of marketing which makes people read, you need to present it in the right format so people will see your message clearly, and it could come across as effective to your audience.
How do you create a successful email campaign?

Learn about your target audience so you can craft your email accordingly
Stay focused on your goals
Know the different types of emails
Create an interesting subject line so you can instantly catch the attention of the reader
Plan the email and follow-ups in advance
Put technology to good use

How do I make my campaign successful?

Research about your target audience as much as you can
Pick the right type of emails to send
Plan the email body in advance
Don't spam your subscribers if you really want them to read your emails
Always pick an interesting subject and follow it with equally interesting email
Always follow-up

Are email campaigns effective?

Email campaigns can be pretty effective but only if they are designed expertly. Businesses need to understand that quality over quantity is relevant in the digital world too. They need to focus on saying fewer words to make a lasting impact on their subscribers. As long as you can make the audience feel that you know them, your campaign will be effective.

How can I improve my email performance?

If you are spamming your subscribers, stop that right away
Personalize each email to make your readers feel special
Add graphics in the body to make it look more appealing
Keep your message short and precise so your reader does not get bored
Learn about your audience's interests
Don't spam
To have a successful email marketing campaign you should not spam. It is the easiest way to lose audience especially if you annoy them with your emails. Keep it short and attention worthy so you would not have to send the emails over and over again in the future.
Translate your emails
If you are addressing the email to an international audience or if you have separate lists containing subscribers from different countries, it is always a good idea to use translation services in order to translate the emails. It is known that, although lots of people know English, they are more willing to read an email in their native language.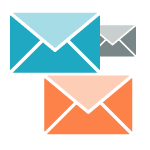 Don't have a list of subscribers? Create one!
We've seen people not using emails just because they don't have a list of subscribers, but they weren't willing to create one either. That is a big mistake. There are a bunch of modern tools today that anyone can use, and can get started with a list in just a few minutes.
For instance, Mailchimp allows anyone to create an account and set up a list. Landing pages, opt-in form and anything else related to this marketing method are now a lot more easier to create and maintain, even though you have no experience with this. Even more, Mailchimp allows you to use email lists for free (conditions apply, like the number of subscribers).
If you have a website already, or even a free hosted blog, and trying to make money with it, it would be a shame to miss this opportunity of getting closer to your readers. Plus, setting it up shouldn't take much of your time, and may prove to be well worth it.