How affiliate marketing works and what are the advantages
Are you sitting on a perfect and beautiful blog that is just of no real use? Have you looked over into what you could earn with it but don't know how affiliate marketing works? Find out in this article.
How affiliate marketing works
Did you created your weblog when blogs were very fashionable, and now you look around, and you don't think they are cool anymore? Worry not; you do not need to delete your blog. Your blog is not fashionable anymore because now it's profitable.
Why blogs are the best tools for affiliate marketing?
These days, blogs are the best tools for affiliates. In affiliate marketing, the marketer sells other people's products, and when these products are sold, the seller gets a commission for it.
If you are good at writing, are bored and love to connect with people and share good points of new things, you should consider making a blog that sells other people's products.
So when you create a post about the product that is to be sold, you will get it in the form of a blog post or a vlog or a twitter post through your very well-received twitter account or through the video that you posted on YouTube and shared on Facebook where you have so many connections. This is a simple activity, and could bring you money if you learn how affiliate marketing works.
How do you get paid?
If you do not have the right ability, that is one thing, but if you puke out snappy words left and right, then this is the job for you. Not every affiliate marketing plan will pay the same. Those who spend more expect you to sell more expensive or challenging products. So, you will move up the chain by starting out small with selling a lot of products that are easy to sell. Once you have established your credibility as a competent marketer and have many followers who enjoy your writings; you will take on challenging products.
Rather than these products promoting you as a marketer, you will be promoting the products through your already established name and that is why you will get a much higher commission on selling these products. Not every affiliate is paid per click, but most of them are. Some of them are paid through commission, but you can also be paid per lead.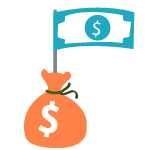 Learn how to outrank your competitors
Now that you know how affiliate marketing works, if you really want to succeed as a marketer, you should look into the main terms and ideas that are used in affiliate marketing. The more you know the general lingo, the better you will sell your products. To get more traffic to your blog, you need to have a keen awareness of SEO and how marketers are working to get top positions in Google Search. You also need to look into how much competition you have to face online, and you need to be aware of it, but also learn ways to outrank them.
Universal Translation Services believes that if you keep an eye out for these factors, your blog will become a successful revenue generating entity in no time and you will be selling good products for good profit with success. Affiliate marketing is not a quick way to earn thousands because it is done by many and with success. It is a modern tool for communicating with your target audience and to offer them great products or services while earning your cut.
This post tried to explain how affiliate marketing works and what are the benefits in joining an affiliate program. If you have a blog about languages, you may want to join our translation affiliate program and earn money by referring people to our services.