Individual Clients – Why are you, as a Translator, Avoiding Them?
(Last Updated On: October 4, 2021)
Individual Clients – Why are you, as a Translator, Avoiding Them?
There is a growing divide in the translation industry, those who take individual clients and those who don't. It is true that keeping a translation company, regardless of size, is hard. With competition sprouting from every corner, it is important to take every opportunity for business.
However, there are some companies that failed to understand one vital niche of this industry: the individual clients. Most companies in the industry make their money by providing translation services to companies or institutions. These usually comes with partnership. This usually comes in a form of a long-term deal, and it is lucrative. Landing at least a year of partnership from a noted institution means that a company need not to worry since they already have a steady source of income.
As companies transition to this type of business, they are leaving one vital source of business: the individual clients. This type of clients are usually looking for just a one off project, or a short-term one. Most of the time they only need translation services for a couple of pages.
It is true that these individual clients do not constitute a long-term commitment, they are, however, still a vital component of the industry. They do not provide a long-term commitment in the literal sense, but they can always refer your company to their colleagues.
In the age of social media, a single negative review may also spell a make or break moment for a translation company. By providing a great translation project to an individual client, they can essentially market your business completely free of charge through word of mouth or referral. On the other hand, fail them and you will face the wrath of negative reviews that are indelible to a company's reputation.
As a reputable translation company, we value all of our customers, regardless of how big the project they bring. We are not just committed to our long-term clients. We are committed to all of our clients. We provide the best translation that we can to all who seek it.
We are a translation company and we are committed to provide the best service we can to all who need it. Whether you are a multinational corporation that needs document translation constantly or an immigrant seeking to translate their documents for immigration purposes, we are here to help you. What makes our company great is that we do not categorize our clients. If you need translation, we are here for you.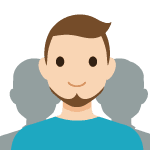 Despite the often rewarding experience of working with a singular client directly, many translators feel it necessary to avoid working with individuals, despite the legitimacy of the market. Let's take a closer look at why you might be doing so.
I work fairly extensively with and for individual clients; the majority of this being certified translations of official documents, but I've also spread my skills to business plans, real estate purchases and sales documents- and yes, even a whole book. Why have I found this work so rewarding?
Firstly, the simple gratification of completing work that individuals require and appreciate cannot be ignored. I once received a wonderful gift of wine from a customer who needed translation done under high pressure.
The work is usually straightforward. I charge a flat, non-negotiable fee per page for certified translation that is only done once the client has paid- no quoting, no haggling, no hassle, and I can be sure of receiving pay.
Small projects commissioned by individuals are very lucrative when compared to the time spent. They are usually projects that would be either rejected or overcharged by agencies. As a freelancer you can also template your work, allowing a more streamlined process.
A great many freelancers do not take advantage of the individual customer market; why not do so, as via this there is always work available?
The main aversion to individual clients of not getting paid due to mistrust in individual clients in comparison to other sources of work can be solved through asking for initial payment, and avoid negotiations. If they do not agree to your rate, there is always another freelancer- and you can be absolutely certain that there will always be another customer due to this relatively untapped market.
Admittedly, working with individuals does require:
• Patience. If they are asking you to translate for them, then they probably are a little ignorant about the process and business. Be open to answering questions that you may have answered a few or many times before. Be willing and courteous.
• You may receive requests to simply certify a document that they have translated themselves. In this situation, it is best to refuse for liability reasons- do not certify work that you haven't completed yourself.
• Payments online unfortunately cost money themselves. PayPal is often the subject of many complaints and niggles, and I agree that the fees on large amounts can become annoying. However, just about anyone should be willing to pay, for example, $3.50 to collect $100 from a customer. Paypal is so widely used and easy for clients to utilize even in the case of returns and refunds, however there are other services out there such as Square and Stripe, the fees for which amount to about the same.
With the right application of professionalism, why not try the individual client market today? You may find it as lucrative and rewarding as I and many others have.