The basics of an international SEO strategy
(Last Updated On: August 15, 2019)
Online marketing has become an integral part of every businessman's strategy to get things done. And online marketing can only be conducted through Google or any other search engine. Universal Translation Services argues that as international SEO strategy has developed into the most major venue for online business development, 'Search Engine Optimization' (SEO) has become a great way to garner audience and market for your product. And this is why international SEO has become an integral part of business development for any and all companies worldwide.
International SEO strategy for 2018
This development in modern business techniques has given way to many specificities of using SEO marketing. One of these specificities is Geo Marketing.
Geo-Marketing
Geo-Marketing basically means that the search engine looks at the consumer's geographical location and chooses the content to serve them through intelligent choice.
In elaborate terms, every market has a different answer to the same question. Meaning of 'prayer' will be different to a Muslim country and a Catholic nation. So, the international SEO strategy looks at the geographical location and makes an informed decision based on previously gathered data as to what answer should be presented to the consumer.
You have to develop your own geo targeting technique for your product in order to make sure that you consumers review your product line while searching for relevant keywords. We will explain in this blog how you are expected to conduct geo-targeting for your own product.
Geo-Targeting in 4 steps
Local Market Research
The basic discussion in your local market-related t your product is incredibly significant. You need to make sure that you know all that is being said about your product in the local market. If there is some local lingo used to describe your product, it will be a good idea to make it a keyword in your SEO.
Content Strategy
Look into the usual topics of discussion regarding your product. You can look at the usual questions that are being asked by the audience and see if you have any answers. Universal Translation Services makes sure that you formulate all your data with keywords included otherwise there is no point in even starting out with it.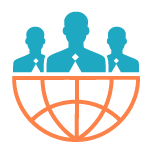 Localize it
You have to build content that has a universal appeal but has very specific local aspects that are answered in the content. Meaning you will build local and specific content but make sure that this local content has a universal touch and it is easy to relate to everyone.
International SEO
Make sure that your target geographical region uses Google. Many countries in the world and around thirty percent of the population still do not use Google to conduct its searches. So if your target audience is not using Google, you need to confirm that beforehand.
These are a few of the basic necessities of conducting Geo-targeted research and ensuring a strong and capable international SEO strategy for your audience. Universal Translation Services is here to make sure that you find your experience with translation agencies a pleasant one.