How to Certify and Translate Vital Records In Spanish?
(Last Updated On: April 20, 2022)
The influence of culture and region means that the same language can develop different features. So, when speaking to an Australian, knowing the right words is very important. There are probably other slang words in Australia that only make sense in one part of the country. In the same way, people from Britain have so many kinds of accents. Like English, Spanish is also spoken in different parts of the world and is almost a foreign language everywhere.
What Are Vital Records?
You will hear the word vital many times in your life, and its meaning is mostly connected. When a patient is brought to the hospital, their vital signs are checked by healthcare professionals. In government records, the word refers to personal files like a birth certificate. Vital records are essential and are needed at every step of the way. Without them, no one can live their life. They are in the official language of the issuing state.
Vital Records in Spanish:
More than twenty countries in the world have Spanish as their official language. Anyone living in those countries will have all of their personal records in Spanish. Even their academic records will be in Spanish. However, when someone from such a country wishes to immigrate to another state or study in a foreign university, they can't do so until they get their documents translated. No government will accept the immigration application of someone whose papers are in a foreign language. For those living in Hispanic countries, the US is the best place for immigration. The promise of a better life is not something that they can ignore easily.
These applicants must follow all the requirements; otherwise, their applications get rejected. Although they can prepare for the interview themselves and read about the rest of the procedure online, it is the translation of their document that they can't get from the internet. They will require certified translations, which isn't something that Google Translate can help them with.
How to Get Your Vital Records Translated and Certified?
Just because the internet cannot help you with something doesn't mean there is no solution. However, you will have to be careful before making your decision. There are a few experts that you can turn to for help, but there are also those who would take your money and offer you poor services in response.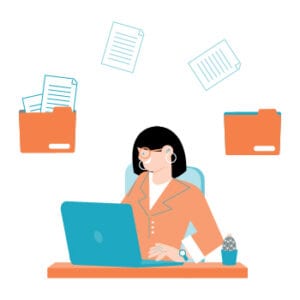 Find an Agency:
The first thing you should do is find an agency you can rely on. You can search names on the internet to access reviews left by their previous clients. The reviews will help you figure out which agency is the right one. It is also essential to ensure that they can provide you with the services you need. For instance, if you need help with the translation of Mexican Spanish, a native of Spain can't help you. So, make sure the agency you are choosing can connect you with the right expert. You will need someone who is a native speaker of Mexican Spanish and knows the country's culture too.
Get a Quote:
Once you have found the right agency, visit their website, and click the 'free quote' page. You can also get in touch with them through their telephone number or email to get a quote for your project. On the free quote page, you will be asked to upload your vital records and add information about them. You will select the source and target language, the deadline, if applicable, and whether or not you need it certified. Once you have entered the relevant information, you can click enter and get the quote.
Place Order:
If you are satisfied with the rate, you can place your order. If you wish to discuss some more details with the agency before placing your order, you can use the live chat option. This way, you will be able to ask any questions you have about their services. You will also be able to ask for an urgent service if you have to catch a deadline. Once you have placed your order, you can sit back and let the experts handle your documents.
Receive Translation:
Once the translation is finished, it will be sent to you for approval. Only after getting your authorization will the linguistic expert issue their signed statement. If you require any changes, they can be made quickly. The signed statement will officially make the document a certified translation that you can show to the authorities. You can leave your feedback after reviewing the work. You can also ask for a physical copy of the translation, but you will have to pay extra.
There is no need to start panicking if you are unsure how to get help with a problem. The best course of action is to take a deep breath and then come up with a plan. You can ask people for their recommendations or turn to the internet for suggestions. Once you have found the right agency, you can stop your search and let the experts handle your documents.
Is a vital record the same as a birth certificate?

Vital records are the records of citizens' lives kept under government authority. They include different documents like birth certificates, marriage certificates, and death certificates. A birth certificate is a type of vital record that records the birth of a person and includes the names of their parents.

Is Vital Records a legit site?

Vital Records Online is a website that gives American citizens a chance to obtain their birth, marriage, or death certificate without leaving home. It has a highly positive rating and is trusted by many people. It eliminates the need for people to wait in line at offices or fill out lengthy paperwork.

What are essential records?

Essential records include all the vital information about a person's life. For instance, a birth certificate mentions not only the time, date, and place of birth of a person but also the names of their parents. Marriage certificates and death certificates are also significant medical records that people need to obtain from government officials.

Medical history forms, however, are self-reported and are not official medical records.

If you are looking for medical records, reach out to the physician, hospital, or other entity where the medical event(s) occurred.

As stated previously, we are highly experienced in working with the USCIS and multiple other government agencies. Outside of Washington State, birth and death certificates can be obtained by contacting the state or municipal health department where the event happened. This additional layer of validation to the translation gives the receiver confidence in the authenticity of the certification. For records outside of Harris County but inside Texas, visit Texas Health and Human Services. If you do not have an ID, please see the list of acceptable alternative documents below.

A vital correct record is a legal document that includes all the essential information about a person's life. Applicants requesting records shall furnish adequate identifying information contained on the record to ensure the correct record is being released. For instance, a birth certificate mentions not only the time, date, and place of birth of a person but also the names of their parents. Marriage certificates and death certificates are also essential marriage records that people need to obtain from government official's legal document or Federal Government.

A certified copy of birth records or death certificate/death records, marriage records, and divorce records/divorce certificate can only be obtained by those who have a particular link to the person on the record. Anyone can order a non-certified copy, informational copies of birth records, and death records. You'll need to get a court order if you want a copy of your original birth certificate or county of birth. To find out if this is required, contact the entity requesting the birth certificate (embassy, consulate, civil registry, etc.). Non-certified copies cannot be used for legal purposes. This procedure should only be utilized if the father or mother on the child's original birth certificate has to be changed.

Birth certificates must be certified for several reasons, including U.S. Immigration (USCIS approval), getting a visa, using the passport office, legal, academic, and many more official purposes.

When the entire application and papers are received, processing time might take up to 10 business days. If you order a missing divorce certificate/divorce documents, it will not be issued until court personnel creates and files the certificate. Funeral directors are only permitted to serve as official representatives to obtain copies of death records. Because the application process necessitates the sharing of personal information, security and confidentiality are essential.

What is a vital records program?

A vital records offices program is what protects an organization from losing important data in case of a disaster. The program is used to identify and protect the documents that are vital for the functioning of an organization from a disaster or emergency. Certified copies will be issued on security paper. Vital records programs are used by organizations and universities all over the world. Smaller towns may have their own civil registration office or be a part of the civil registration office of a larger city. Photocopy generated certificates and amended records require additional processing time.
UTS is a leading business and legal document translation company that can give an immigration translation certification on demand. UTS is your best source for any document translation services for USCIS, including birth certificate translation for USCIS.
Additionally, several years ago, USCIS required notarized translation of birth certificates for all immigration translations; however, applicants are no longer needed to translate and notarize birth certificates as simple certification is all this is required. Immigration translation certification requires total accuracy. Notarized translation of birth certificates is recommended when sent out of the country.
We provide high-quality, accurate, and efficient documents for immigration purposes worldwide, and we make sure that every translation you receive comes with rapid customer support and assured on-time delivery. When you order a translation of documents for immigration from UTS, you can be assured that your information will be kept private and confidential.
Order a Notarized Translation of Birth certificate Today A certified translation, in the United States, is where an official translator stamps and signs each page (a copy of the original, source document, and the translated page) and includes a sworn affidavit, translator's certification, or translator's affidavit.
The Ministry of Justice's website allows you to purchase copies of birth, marriage, and death certificates from Spain online (Ministerio de Justicia).
An international birth certificate is issued to a child born to citizens of a country in some other foreign country. When a child is born in a foreign country, the parents should inform the consulate of their country of the birth of the said child.
When the consulate becomes aware of the birth of the said child, it becomes easier for the said child to get permission to enter into the home country of which parents are citizens as the consulate is aware of the said birth and its truth of birth.
A complete birth certificate takes between three and six weeks to be issued in most cases. You may be needed to provide a Spain Full Birth Certificate while applying for a marriage license, passport, or even a visa to travel overseas.