Infographic: translator life, how does it feel like to be a translator
(Last Updated On: October 4, 2021)
We've been asked how does a translator life looks like and what they do every day. Some people think that being a freelance translator is an easy life as they're working from home and can work whenever they feel like, and do their errands when needed. While this could apply to some people, it's far from the truth when it comes to translators.
Infographic: translator life
So how does it feel like to be a translator? Well, the answer really varies and it depends on a lot of things.
The infographic
Most of the translators really don't have much time to do other things, like errands. Translating documents from a language into another is not easy to do and it involves a lot of work. This translates into many hours working behind the computer, sometimes spent with researching or formatting the document rather than translating. Not much anyone could do about that as it has to be done because the client needs to be happy with the work.
A translator life is not as bright as some would expect, and definitely not as bright as in our infographic, which was made with the intention to cheer you up a bit.
So here it is, click the image to see it in full size or download it from here.
What's so difficult being a translator?
Life is hard, pretty hard to be precise and a translator life is no different. But let's not presume things already.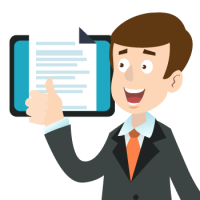 Translator concerns
Like all the other freelancers, a translator's main concern is making enough money to put something on the table for their families. And since this highly depends on how many translation jobs they get, they are always stressed about making ends meet.
Another concern for translators is meeting deadlines. Most of the clients looking for translation want short deadlines and in order to meet them, a translator usually needs to put in extra working hours in order to finish his assignments before deadline.
A third concern translators have to deal with is the payments. While some clients are willing to pay upfront, most of them will only pay after they get their translation. That is something that makes a translator life more stressful than it should really be.
Let's cheer up though
To begin with, just like everybody else on this planet, our translator needs a giant cup of coffee. In a translator world, there is nothing more important than the start, so the first point is always getting ready to solve the problems ahead. And what else can help more than his very own best friend? Of course, the hot cup of coffee!!
Next up is the inevitable, yes we are talking about food. Our translator needs to eat all the more. Well, translating isn't an easy task, it takes a lot of energy and food brings energy so yeah, he has to eat.
What else is a crucial element in our translator life? It's the biggest luxury: yes, we are talking about time. Our translator has to manage his time. And by that, we mean he has to manage the extra time that he has to spend on the internet besides translation. And that time is really precious, categorizing time for online shopping, streaming, chit chat, and social media. Oh boy, it's seriously very tough for our translator to manage time well.
We all hear about the menace of stress, our poor translator is always stressed. It's like a companion that never leaves his side. And when he has nothing to stress over or he forgets what he was stressing about, he gets even more stressed out. Don't get it? That's ok, neither does he.
Exercise, our translator takes care of his physical well being just like a pro. He just stays on his computer and watches videos of people exercising. Or sometimes he even does his workout after eating a pizza. Shhh, not true, he doesn't exercise, he just sits on that chair, the ultimate beauty of a translator life. Remember, he is stressed and has issues with time management, he really can't find any way he can go for an exercise.
Talk about organizing and making lists, a translator life has no space for it. No do's and don'ts, just making things right whatever he does. And most importantly, things need to be done, yes get it right!!!
CAT tools, well, don't even think about using them. It's been quite a lot of time our translator has been doing translations on his own, why indulge in such monstrosity of using these complicated tools?
And last but not the least, our translator is excellent at sleeping, he is so good, he can do it all the time, any time. What else would you expect?
Having read the above, do you still consider a translator life an easy one? Let us know in the comments.
Check out more resources for translators below: