Translation Services for Manufacturing
(Last Updated On: December 9, 2021)
Manufacturing Translation Services
One of the most significant challenges facing manufacturing organizations with the rise of the manufacturing industry in the international market is communication. The manufacturing industry is desperately needed by society as a whole. Manufacturing is a sophisticated process that requires a lot of vocabulary that a layperson cannot comprehend.
Global manufacturing industries use some of the most advanced scientific terms and technical expressions to describe the functions and operating instructions of manufactured products, which must all be translated accurately and cogently to provide the best international customer experience and to comply with local regulatory requirements in terms of safety.
The pharmaceutical industry and translation services
The manufacturing industry can endure for a long time. It's a multi-trillion-dollar industry with a lot of room for growth. The pharmaceutical business produces heavy machinery for use in industries, and the manufacturing industry produces little things for home use. Consider a world where people still communicate by sending pigeons. They may now be avoided thanks to the industrial industry. Each state concentrates on the industrial sector to achieve economic prosperity. Because the more products they make, the less they need to import from other countries.
The industrial industry, on the other hand, needs professional translation services for manufacturing instructions, training material, user guides, product labeling, user instructions, and marketing material. All these documents require technical subject matter expertise and industry experience because of technical terminology. It requires in-depth knowledge of technical terms.
Because not all descriptions, equipment instructions, product specifications, safety procedures, and user manuals are published in English, and even if all documents are written in English, half of the world is unable to converse in the language. Everyone, on the other hand, utilizes things made by the manufacturing sector and is intimately linked with it. As a result, translation services play a critical role in the industrial industry. And you need a professional language service provider for safety materials.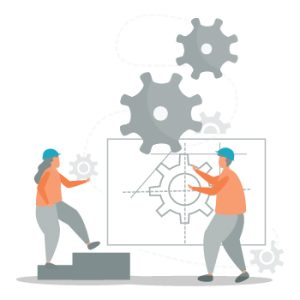 Where to find professional Manufacturing Translation
Professional technical translation services are quite easy to come by. All you need is a skilled translator with experience in the industry. It could be tough to find someone who has both skills. Look for a company that specializes in manufacturing translation to get 100 percent accurate translation services. A translation agency is always preferred over individual freelance translators for professional translation because they have professionals and native translators for technical translations, ensuring that these documents are error-free.
Do not entrust your translation project to anyone without thoroughly researching their qualifications and experience. Because the translation is a life or death scenario in the pharmaceutical industry. Professional and technical documentation is required in the industrial world. The quality of your translations is critical to the success of your business.
Choose a high-quality product over one that is inexpensive. To get the best outcomes, factory translation services must use the most up-to-date language technology, such as terminology management tools, in-context linguistic review portals, and current translation management systems, in addition to having the best linguistic resources.
As a result of the growing demand for manufacturing translation services, several translation organizations have developed their Irish language interpretation services, with local speakers on hand or you can use an internet translation service. These businesses have not only raised demand but also given the translation industry new life and vigor. These businesses provide manufacturing translation services with the primary purpose of providing a comfortable translation environment for translators and interpreters.
Find best manufacturing translation services
Manufacturing translation services are designed to assist people with a variety of technical translations for official and personal documents. The translation is an extremely useful tool for all types of communication. It assists manufacturing companies in overcoming one of the most significant communication barriers in the international market: language. How ironic is it that language serves as both a means of communication and a barrier to communication? When people from different countries can not understand each other's languages, it is referred to as a communication barrier.
After that, they have two choices. They can either learn the language or translate it into their local tongue. There is a need for interpreters or translators in this situation. People don't require professional translation services in a casual situation, but they need when it comes to translating important papers for business purposes, such as a presentation that you're going to give to overseas clients and it's not in English. You'll need a competent translator who can deliver amazing and error-free translations. Official documents necessitate a competent translation with an accuracy certificate.
4 tips to get top-notch quality translation services
Here are four very basic yet very effective tips to help you get top-notch quality translation services.
Hire Native speakers of the language
Make that you select an international translation services firm that can guarantee you native language resources. In business, official work, medical interpretation and translation, legal translation, and other fields, accurate translation, and competent service are critical. As a result, make sure to choose a native speaker who can preserve the substance of your original paper.
For technical translation hire a certified translator in that niche
Terminology is particularly problematic in sectors such as medical translation and legal translation. Similarly, manufacturing translation necessitates the expertise of a specialist in the industry. So you need professional manufacturing translators for a variety of materials. You might find a Translation service provider with experienced translation providers with higher translation prices for this type of translation. The technical translation of papers necessitates high translation accuracy.
Many online translation firms offer accurate translation services, including technical and non-technical translation services for technical documents such as immigration translation and non-technical documents. Hiring a subject matter expert is always best. For example for manual translation, only technical translators can understand the terminology in technical manuals. And professional translators also convert raw material into a useful piece of information.
Give proper turnaround time
According to market norms, you must provide adequate turnaround time to the translation services company's quality assurance staff. Even a team of skilled translators requires time to provide the best translation service possible. Technical translation firms, in particular, demand that the translation project and the technical document translation process be completed in a fair amount of time. Because human translators work differently different from machine translation.
Don't take translation services non seriously
Accurate translation is a time-consuming task. For quality translation, you must provide a reasonable turnaround time. Choose a translation agency that has a team of professional interpreters, international translators, and country translators on staff. For your peace of mind, entrust your translation needs to a company whose first concern is great customer service.
It is critical to provide excellent customer service. For customer service interactions with their A-list customers and network of clients, several organizations maintain a quality assurance team and customer service personnel. They solicit consumer comments for the best translation services and receive positive feedback.
User-friendly website is key to success
Having a manufacturing business might create a lot of competition. However, the topic of how to make your website user-friendly emerges. So that individuals all over the world can participate in your business. Doing business online has several advantages, one of which is the ability to reach a global audience. And eventually, that audience will become your customer.
However, when something expands to an international level, it has various challenges, one of which is the language barrier.
If the website is only available in English. Only native English speakers or those who are well-versed in the language can understand the website. However, many people do not know how to speak or understand English, which poses a difficulty for you as an internet business owner.
So, if you want to grow your online manufacturing to worldwide markets, don't limit yourself to just one target language. Consider a variety of choices. Attempt to cover all of the world's widely spoken languages. The landing pages of your casino website should be translated by native speakers of those languages. It will elevate your online manufacturing business experience to new heights.