Where to get marriage certificate translation template
(Last Updated On: October 27, 2023)
Where to get marriage certificate translation template
When it comes to importance it brings to its bearing, Marriage Certificates are usually on top of the list. Many countries and institutions also consider it as a legally binding document. These features alone are enough for one to consider just how important a marriage certificate is.
The reason for marriage is varied. Nevertheless, the most common of these reasons is love. The act of marriage transcends reasons and barriers. People marry despite of differences in faith, economic status, and cultural background. In most cases, marriage has always broken through these challenges and hurdles in order to unite two people. It is also considered as a major unifying concept for thousands of years. The practice of marriage dates back thousands of years. All major religions in the world also consider it as a sacrament, thus making the act of marriage holy in many faiths.
Some people might consider a marriage certificate as just an ordinary piece of paper. That could not be further from the truth. This piece of document has a lot of power. For one, it is an official document that stands as proof that two people are actually married. This makes it just as important as a birth certificate.
In many cases, a marriage certificate is one of the requirements when applying for immigration. In fact, all applicants whose status is married are required to pass this document to immigration officials. Countries like the United States, which has a very strict immigration regulation, usually asks for this document as proof of evidence of a person's marriage.
Speaking of immigration, there are some cases wherein a person's marriage certificate is not printed in English. In cases like this, especially if you are application immigration to the United States, the document must be translated first. This is quite common since majority of those applying to migrate into the United States are from non-English speaking countries. This is a very common hurdle when applying for immigration, especially if you don't have a go to Translation Company that can do all the translations for you.
If you are in a bind like this, a translation company will be of great help.
Marriage Certificate Translation Template
Just like almost any other kind of document, marriage certificates have different formats or templates. This usually differ by county. A marriage certificate issued in the United States and Canada will have different templates, despite the fact that both countries are English-speaking nations. Because of differences in templates and forms, the United States Citizenship and Immigration Services, as well as a number of immigration institutions around the globe, usually have a standardized template which all applicants should follow. This standardization concept was put in effect in order to make it easier for these immigration institutions to sift through huge amounts of paper works.
Our company is duly approved by the United States Citizenship and Immigration Services to provide translation services. As such, we have a verified template which we can use to translate marriage certificates. Our template is also approved by the USCIS, which means that if you picks our company to translate you marriage certificate, it will have no problem passing through strict immigration regulations.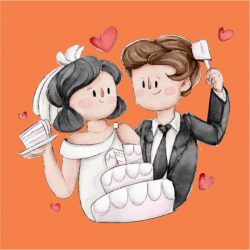 We have a lot of translation template, and this is not only limited to marriage certificates. We have templates for all types of documents that we translate. So if you have documents like birth certificate, bank statements, or marriage certificates, rest assured we have an available translation template for that particular document.
People have always wondered if there is a single marriage certificate translation template that all agencies adhere to. The answer to that is No. Each company or agency have their own translation template. The only unifying factor here is whether this template is approved by the USCIS or other immigration offices in the world. That is the most important thing to remember when picking a marriage certificate translation template, ask whether the template is approved by immigration offices.
Aside from the USCIS, our services are also approved and verified by a number of other government institutions. This means that if you bring your documents to us, your translated document will most likely pass through the strict screening of the government with ease.
High Quality and Accurate Translation
Our company provides high quality and accurate marriage certificate template translation. We have been in the business for many years, and we have provided services to thousands of clients around the world.
The reason why our business is popular in the translation community is quite simple, we only provide high quality and accurate outputs to all our clients. We understand that these documents are important to our clients, which is why we always treat it with respect and care.
It terms of quality, our company is ISO certified. This means that our standards and practices have achieved that of the global standards. We are also accredited by a number of government institutions to provide translation services to our clients.
In terms of accuracy, we always make sure that the final output returned to our clients are 100 percent accurate. We have a pool of professional translators that are ready to take your project any time. In order to maintain accuracy, we also have a dedicated quality team whose sole purpose is to double check all translated documents and make sure that they are perfectly done.
So, if you are looking for an agency that provides accurate marriage certificate template translations, you come to the right place.