Ecommerce Localization
How Can a Business Succeed?
Survival in a capitalist world is not an easy thing for companies, and for new businesses, it is even more difficult than it is for established names. The only way to get yourself on the path of success is to set realistic goals for your business. Of course, you will have to earn money to survive, but you can't do that if you are not building valuable connections with the people who buy your products or services. A company that does not care about its customers will not be able to operate for long.
A business succeeds if it has set goals that not only help it today but also in the long run. A company that only focuses on making money today and not on the quality of their products will not be able to stay in business for long. Another important factor in today's world is being available on the internet. If you are approachable for your customers, they will be more likely to trust you. All of your target audience is on social media websites, and if you are not there too, you are only hurting your company.
But having a working website or social media accounts is not enough if you operate in multiple countries. You must be considerate of your audience that does not speak English and get help from certified translators. Once they help you with your projects you will realize why e-commerce localization is necessary for the success of a business today.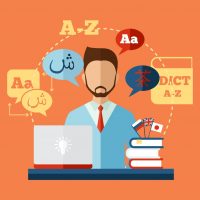 Business Translation:
You can get in touch with a professional translator, but if they know nothing about business, they will not be able to help you. Business translation is unique and complex. And if you want your company to retain its reputation, it is better to not trust every linguist. You need to find professionals who have experience in this field of linguistics. They will be able to help you with your linguistic problems.
A common mistake people make is thinking that they can get help from the internet. Although free translation sounds good, it will harm your company due to its inaccuracy. You can't take any risks when you are trying to communicate with your target audience.
Another important aspect you need to remember is that the translation process will be a bit different when it comes to websites and social media accounts. Business documents that are full of financial details, and websites that only focus on product details are not the same. Therefore, the task must be handed over to someone experienced and qualified.
A lot of companies ignore the image sharing site despite its popularity among users. Although you can reach out to your target audience from other social media platforms too, it is important to have a presence on Instagram. It is important for you to share visuals related to your brand on this application. You can improve the quality of your images and connect with a huge audience. But in order to make your content friendly for different audiences, you will need the help of a professional translator who has experience in Ecommerce localization services.
Some people may rely on automatic translations to get their message across to potential customers, but that would only harm their brand. Changing the outlook of a social media service is not easy, which is why this translation project must be handled by someone who has plenty of experience in the field. With a continuous presence on Instagram, you will be able to attract a huge number of customers and build healthy connections with them.
Can Software Help?
Ecommerce Localization is a complicated process that requires a lot of research and deep background knowledge. But some people think that a machine can handle the task. They think they will be better off using a software localization to improve the visibility of their business. But even if a machine has a vast amount of data, it cannot understand some aspects of human life. The influence of cultures on languages and society is not something that can be measured in numbers. A machine can be fed all the data in the world, and it still will not be able to accurately translate documents.
A multilingual person can only be an expert translator of one language, and that will be their native tongue. The reason behind that is simple: our connection with our native tongue is the strongest. We not only understand it at a deeper level but are familiar with the cultural values that have influenced it. A native translator will be the best at their job because they know their language better than anyone. However, there are a few software that can help writers and translators with their jobs. They can be used to increase the efficiency of an expert. They also save the time of translators and writers. You cannot run a website successfully without the help of special software. But with its help, you can create the right content and connect with your target audience a lot easily.
Ecommerce Localization is not something new, but businesses are beginning to realize its importance. Corporations know now that they cannot make it big in the world if they are not willing to respect their customers. And in order to do that, they will have to get localized content for every market they operate in. Forming a bond with customers is not easy, but it will be if you are willing to respect them and their culture.