How to get a Birth Certificate from Houston?
(Last Updated On: May 20, 2021)
Are you a Houston nationalist? You might have heard a lot about Houston.
Well, Houston is a well-known city in Texas. Being a city full of energy and rich, Houston is the perfect form of imagination, talent, and first-class attractions that makes it a world-class city. It is one of the most popular international destinations. But are you a registered citizen of Houston?
In some countries, birth registration is taken for granted which causes a lot of problems later on. But there are too many others where it is the critical step to establish a child's legal proof of identity. To save you from all the hassle of not registering your child, we are providing all the details you need to know about birth registration. Let's explore all about them!
What is a birth certificate?
Birth certificates are vital records that document the birth of a child. It is the essential right of a person and it saves many children from child labor, sexual exploitation, child marriage, and trafficking. They officially prove the identity of a person. These certificates are the permanent and official records of a person's existence. At a minimum, it establishes a legal record of where the child was born and who his parents are. It includes the following information:
Name of the person and his parents
Date, Time and Location of birth
Sex of the child
Occupation of Parents
Birth weight and length
Name of a legal representative
Date of registration of birth and a birth registration number
Now you know about birth registration or certificate, let's proceed further to know how we can get a birth certificate from Houston! If you're looking for translation services in Houston, check this out.
How to get a birth certificate from Houston?
Everything in Houston occurs in an orderly manner. Birth certificates in Houston are important to maintain the health and safety of Texas. Apart from the certificates, it also keeps permanent records of marriage licenses and if anyone files a letter for a marriage license, the health department of Houston will have to go through the marriage records. Family birth certificates include the name of acceptable persons like grandparents of person, spouse of the person, brother of person, daughter of person, wife of person, and any authorized person. If you want to get a birth certificate, death certificate, divorce record forms, or marriage certificates, you need to go through the following process:
Houston Health Department
The first step to get your birth certificate in Houston is to contact the Health department of Houston. It is a bureau of Vital Statistics having a record of all the births, deaths, and fetal death that occur in the incorporated city limits of Houston. The core function of this department is to deal with record retention, serving as a liaison to the state, funeral home relations, and providing general birth and death certificates to the public. Birth records from 1882, death records from 1874, and fetal death records from 1906 are present. Vital records are not public records. The current birth record has exceeded. The confidential records are maintained but if in case of any fraud in confidential records, health care institutions will be responsible.
Due to the COVID-19 pandemic, the Houston Health Department has provided few guidelines for appointments. These include temperature screening before entering the building or receiver services. Till this pandemic, Health Department will operate online requests and provide birth and death certificates online. Vital records include local resources which are safe in the registration district. After setting your appointment, you need to go through the following process:
Eligibility Criteria
The AOP process establishes legal paternity for a child born to unmarried parents. The AOP is a legal document under Taxes law and has the same effect as a court establishing paternity. This is a critical process that ensures whether the child is eligible for benefits like social security, veteran assets, health care, and child support. After filing the AOP, it becomes a legal finding of paternity.
Payment Procedure
After going through the eligibility criteria, the applicants should check the payment procedure. The applicants must send a cashier's check or money order payable as personal checks will not be accepted. All the fees of the certificate will be combined on a money order payable to Vital Statistics. The processing fee to file new documents of vital record based on parentage is $22.00. The filing fee will be different. The fees for the record are paid directly to the Texas Vital Statistics Office in Austin, Texas. You can also pay through your debit card or credit card. The name of the person is mentioned on the credit card which verifies the person's identity.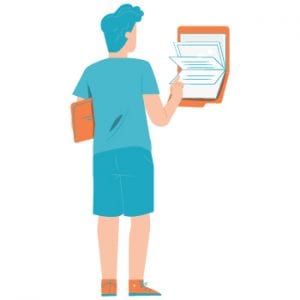 Presence of Biological Parents
After the payment check, both the biological father and mother must be present to provide valid identification for notarization. Provide a copy of the father's proof of residence in the area of our jurisdiction. If you have no booking appointment before, it would be convenient if you find a Harris County Clerk's Office that provides walk-in AOP services. Houston Health Department Bureau of Vital Statistics 8000 North Stadium Drive Houston, Texas 7705 will connect you to Houston 3-1-1 help and information. Though, their office does not provide legal advice.
Required Material
To reduce wastage of time, you should bring all the required materials for your identification form. A valid photo ID is required to prove your identity and prove that you are a qualified applicant. The applicant should attach a copy of their government-issued photos. You need to bring valid picture identification. After submitting your photo ID and all the information required, you should get your birth certificate ready from the office. Another thing is that if you want to add your hospital to your birth record, you will need a longer form of birth certificate. In the current, most children are born in hospitals therefore, in their birth certificate the name of the hospital is labeled as the place of birth. The parents are required to sign the form in the hospital after their baby is born.
Keep a copy of your Certificate
After getting the original document, you must keep a copy of your certificate with you. When requesting a copy of your birth certificate by mail, complete the Application for Certified Copy of Texas birth and death record forms and notarized proof of forms of Identification include a copy of your valid identity along with your payment. Mail your application to the mailing address. After that, a list of acceptable identification will be uploaded on the website of the health department. If your name does not appear, be patient, it can take some processing time. You can also receive your copy through shipping so please provide your physical address. You can also keep additional copies of birth to prove your legal guardians in the time of need.
Why is it important?
The vital records of a child are very important because it documents all of his legal rights. It changes the life of the child life. The following points describe its importance:
Opens up a world of health care. Every year, millions of children die due to diseases and some don't even get the treatment because they are unregistered.
It provides access to education. Although, a child can get an education in several ways the publicly funded schools demand birth registration of the child to provide him aid.
Keeps the child under protection. Without registration, the child appears missing in the documents therefore the government cannot protect him from crimes and abuse.
It can help provide inheritance. If the biological father and mother of an unregistered child pass away, he will have to prove himself to legally inherit their family property. Otherwise, he will have no rights.
It creates a permanent existence. In case of any disaster or separation from parents, a reunion will only be possible if the child is registered with proper identification.
When you grow up, your birth certificate is required in almost every event including taking admission to a university, applying for a passport, etc.