Top 10 Activities to Do in Miami
(Last Updated On: May 14, 2022)
Got a chance to visit Miami as an interpreter? Don't only just sit in the office invert but also enjoy the beautiful city of Miami from the beach to the zoo. There are a lot of healthy activities you can enjoy by sparing a little bit of time from your work.
Make Native friends practice your Spanish every day in the real world. Learning any language from Books and the Internet is easier but when you get into the real world many more alternative words you can learn from natives. These healthy activities will keep your mind and body a break from constant work.
The translation is work where a lot of thought process is required. Or if you are stuck with a document and don't feel like further translating it then take a deep breath and enjoy the city of Miami to the fullest. After your break, you will see the visible improvement in your brain work for the translation process. You can also do work while enjoying your trip.
Top 10 activities to do in Miami
If you get a chance to visit Miami do not waste your golden opportunity to learn Spanish in depth. Mostly in Miami people speak Spanish. If this is your first two were to any Spanish-speaking country then you can learn a lot while enjoying your trip to the perfect tourist spot. Now you must be thinking that your trip was to enjoy Miami Beach, South Florida, and beautiful views of Biscayne Bay but now we are encouraging you to improve your lingual skills.
No doubt some of the stunning views and places in Miami are breathtaking like Key Biscayne, Miami Sea Aquarium, Wynwood Art District, Art Deco District, Fort Lauderdale, and a lot more. Here are few activities that you can do to keep balance in work and fun.
Join any lingual school
Spanish is one of the world's most widely spoken languages and Spanish is an extremely diverse language with a fascinating history and origin. Every language evolves, and the evolution of Spanish is stunning. There are a lot of non-native and native Spanish speakers.
Learning Spanish is also enjoyable because the majority of the terms are similar to those in English. Gracias, for example, is a well-known Spanish term. If you already are a translator then you must know advanced Spanish. But joining any lingual school to polish your language to the perfection better than natives as well.
Hangout with natives
Make Native friends and practice your Spanish daily in the actual world. Learning a language from books and the internet is simple, but once you're out in the real world, natives can teach you many more alternative terminologies. The translation procedure is challenging. Especially in the case of legal or technical documentation.
The proper and precise language is only known by native speakers who are experts in that field. So, even if you're an excellent translation, you should continue to expand your vocab.
Hanging out with locals is the best method to do so. So, enjoy your trip with natives, go on outdoor activities, explore downtown Miami, take some good pictures in Wynwood Walls and with beautiful Palm trees in Miami, admire the work of Shepard Fairey.
You can have fun at different parks like Bayfront Park or Biscayne National Park, have an ocean drive, in short, explore whole South Florida and don't forget Miami Beach.
Have a Picnic with fellow translators
The translation is an art and when it comes to art you learn a lot from other people's ideas and approaches. The best way is to arrange a picnic at any beautiful park in Miami with your fellow translators and investigate their approaches to the transition process. Maybe you'll get more and more ideas about how you can improve your technique of translation and improve your skills for good. In this way, you will explore beautiful South Florida parks as well. Following are few parks you can go to with friends.
Everglades National Park
Crandon Park
Biscayne National Park
Bayfront Park
Oleta River State Park
Museum Park
Amelia Earhart Park
Cape Florida State Park
Gulfstream Park
Oleta River State Park
South Pointe Park
Don't forget to do all the fun activities and make new friends. And you can also go on a day trip with friends like a key west day trip or have an Airboat tour or a city cruise or at coastal spots, you can enjoy aerial views and panoramic views or you can enjoy trips to affluent neighborhoods. There is a lot to do in Miami if you want to enjoy it.
Have a certificate from any well-known institute
As a translator, this is a once-in-a-lifetime opportunity to receive accreditation from its home country. It will help you with your portfolio and CV. You'll be given preferential attention if you're a certified translator.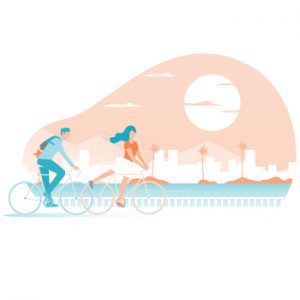 For starters, having a certificate will put you ahead of the game in the translation industry. It will make a good impression on potential clients and translation companies because People with positive impressions and reputations are continually desired in the world of business and employment. Second, you would get market and product understanding. Do not hesitate to take as many certificates as you can. Different courses have different duration options. You can choose the duration option according to your convenience.
Join seminars for linguistics
Seminars are very useful if you are completely attentive while attending them. Search on the Google seminar it's in Miami for translators you can explore different ways of translation in this way. Even if you are a professional translator still Learning can be very beneficial for your career and your personal growth. So, while enjoying your trip to Miami you can do Add activities to improve your lingual and translation skills.
Arrange a party at Miami's beach
Don't forget to enjoy the hustle. Miami is all about beautiful beaches. You can enjoy and relax at sandy beaches in Miami like the south beach, Biscayne Bay and Coconut Grove, etc. There are many activities you can enjoy at the beach like boat tours and you also enjoy Miami lakes you love water bodies and Adrenaline rush. You can experience seeing marine life and a lot of species of wildlife at Key Biscayne.
Visit Museums
Miami is rich in culture and history. Museums in Miami are world-famous some of the museums are as following:
Vizcaya Museum & Gardens
Science Museum
Visit these beautiful Vizcaya Museum & Gardens and learn about the history of Miami with ideal activity for architecture buffs and history fans. The charming Vizcaya Museum & Gardens is always a terrific alternative for anyone who just enjoys absorbing the beautiful landscape.
Other Fun Activities
Miami is all fun when you love exploring the world. There is a lot to do in Miami as you can simply have Bike tours. In Art Deco District you will get many opportunities to do many energetic and fun activities. If you are a baseball fan you can easily enjoy the match in few bucks because tickets are the cheapest here. And if you are a wildlife lover Monkey Jungle should be your next stop.
Visit Botanic Garden if you are a medical translator
Fairchild Tropical Botanic Garden, which spans 83 acres, houses one of the world's most extensive collections of tropical plants, including palms, cycads, and flowering trees. You will learn a lot of terminology for botany and will have the opportunity to examine a lot of new plants.
Dive into the culture of Havana
If you are in a magic city don't forget to explore its famous neighborhood called little Havana. You can learn culture to understand the linguistics and the origins of metaphors of this region.